Typhoon Haiyan (Yolanda) on the Way
Last update – Saturday morning 7:00 am
Dumaguete was lucky and well prepared. The City Government evacuated some people from the riverbanks and brought them to different safe places as a precaution. The Rescue Teams of the City were all in stand-by. Actually they were busy the days before. Several Teams were cutting trees which might not withstand the strong winds Haiyan (Yolanda) would bring.
From here on we will NOT proceede with this topic. There is enough drama spread all over the internet, a lot of it just copy-paste. A lot of it simple useless stuff which does not help anyone.
Instead of wasting 30 PHP in an internet-cafe or for load, buy a kilo of rice and bring it to the drop-points all over the country
We will try to get more useful information about Dumaguete- specific emergency procedures and assistance in case if needed. Use the contact form if you need any specific information and we will try to get it for you. You can find one list with emergency contact numbers here.

Typhoon Haiyan (Yolanda) passed some 100 km north of Dumaguete at 11:30 am. Dumaguete was, like predicted, well out of the way and experienced some winds, which were not that strong. It also brought less rain. The rivers did not overflow and the winds caused no big damage.  The power was cut of from 1:30 pm to 5:00 pm. Telephone and Cellphones were still functioning.
The city and the people of Dumaguete were better prepared compared to the last storms and typhoons which passed or hit the region. It appears that all learned from the hard lessons we had to learn in previous years. Thankfully, the typhoon spared us out this time.
Other regions in the Philippines were less lucky. Our thoughts and prayers are with them.
Typhoon Haiyan (Yolanda) Update  – Friday 1:00 PM
The eye of Typhoon Haiyan (Yolanda) has past in the north. In Dumaguete we had a bit a stiff breeze so far. Also not much rain so far. Absolutely nothing which does not happen 10 times a year. Lets wait what will happen the next 2-3 hours…
 Friday 6 :00 AM – Typhoon Haiyan (Yolanda)  – Update
No changes in Dumaguete, still in the range of windspeeds of a tropical depression.
Update Typhoon Haiyan (Yolanda)  – Thursday 6 :00 PM
Not much has changed in the prediction
Update Typhoon Haiyan (Yolanda) – Thursday 6:00 AM
The latest track update shows another tiny chance. No change for Dumaguete, though. Still stong winds and rain, but no direct hit. However, Boracay is still directly on the track. Also another Top-Tourist-Destination of the Philippines is now in the direct path of Typhoon Haiyan (Yolanda). The wreck-diving paradise of Coron might get a severe hit.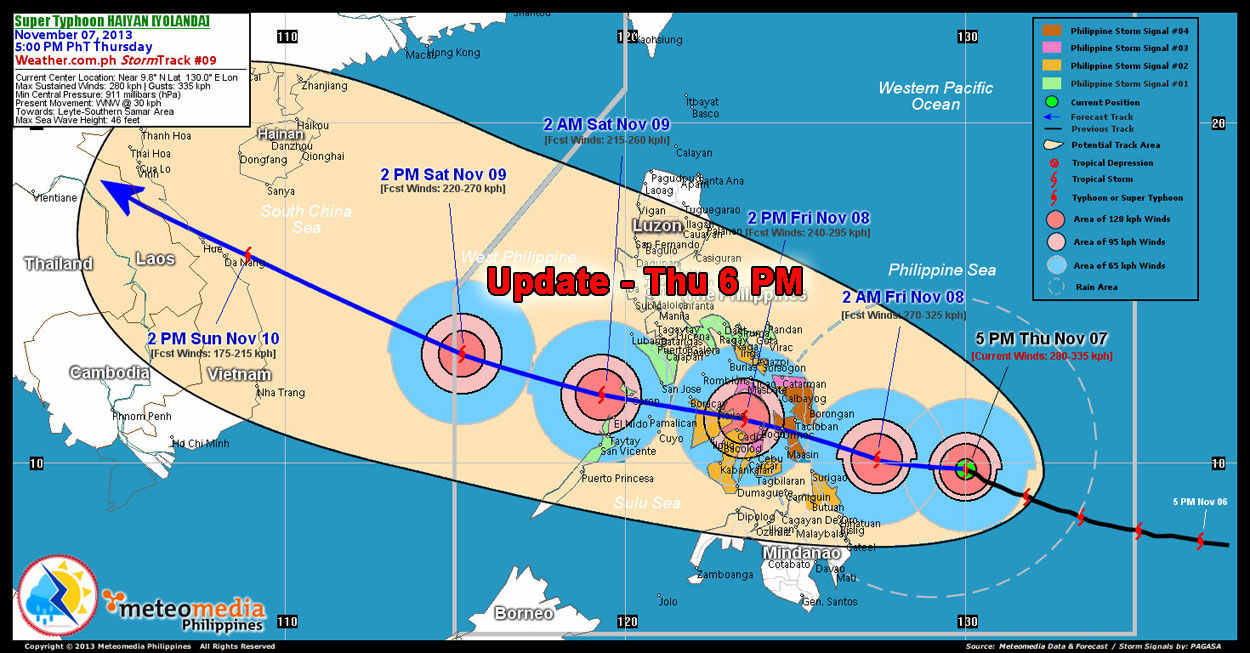 Typhoon Haiyan (Yolanda) Update  – Wednesday 6:00 PM
The track prediction of Typhoon Haiyan (Yolanda) changed slightly. But really just a tiny notch to the north. What is good for us in Dumaguete might be really bad for Boracay. The last 6:00 pm prediction shows the typhoon hitting Boracay in the night from Friday to Saturday.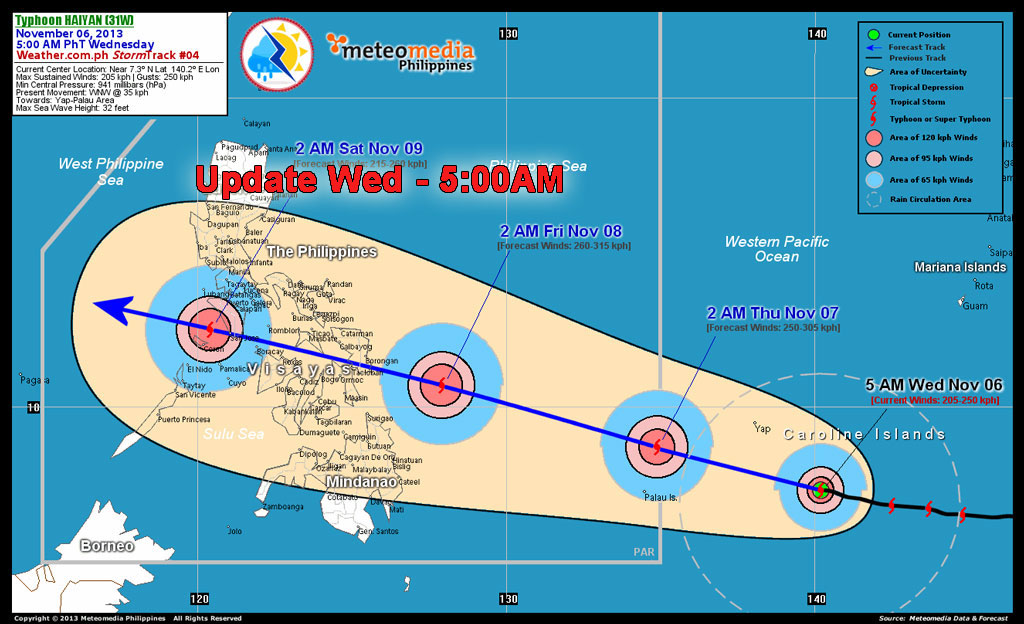 Here is the latest track-prediction. The Typhoon slowed a bit down, but picked up on windspeed and is now a category 4 Typhoon.
ATTENTION
We are aware that many locals and some foreigners are experts in spreading panic and enjoying to be the sources of dramas.. But as of now, there is no reason to run around like chicken without heads. If the typhoon changes direction, we will notice that in time.
Be prepared but don't spread panic because you heard something from someone who has a huge fantasy.  If the typhoon Haiyan (Yolanda) will keep this track, Dumaguete will experience some strong winds and heavy rain. We will NOT be hit by the typhoon directly. Winds will reach around 65-80 kilometer per hour.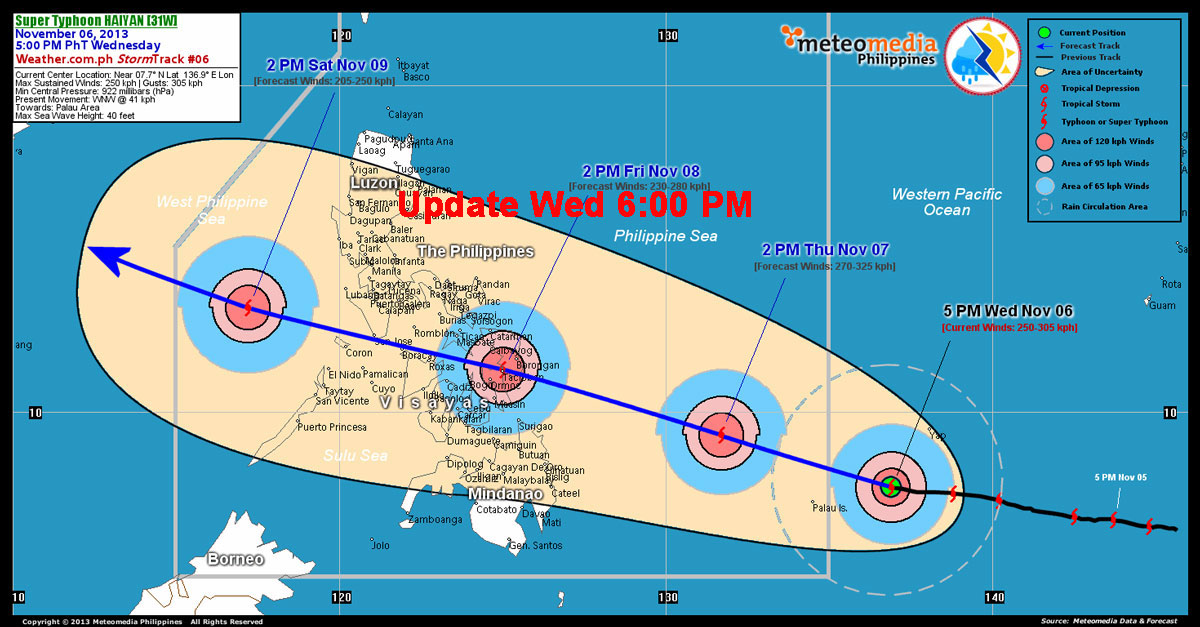 Typhoon Haiyan (Yolanda) update – Wednesday 5:00 AM
The Typhoon keeps its predicted Track and is now south of Yap.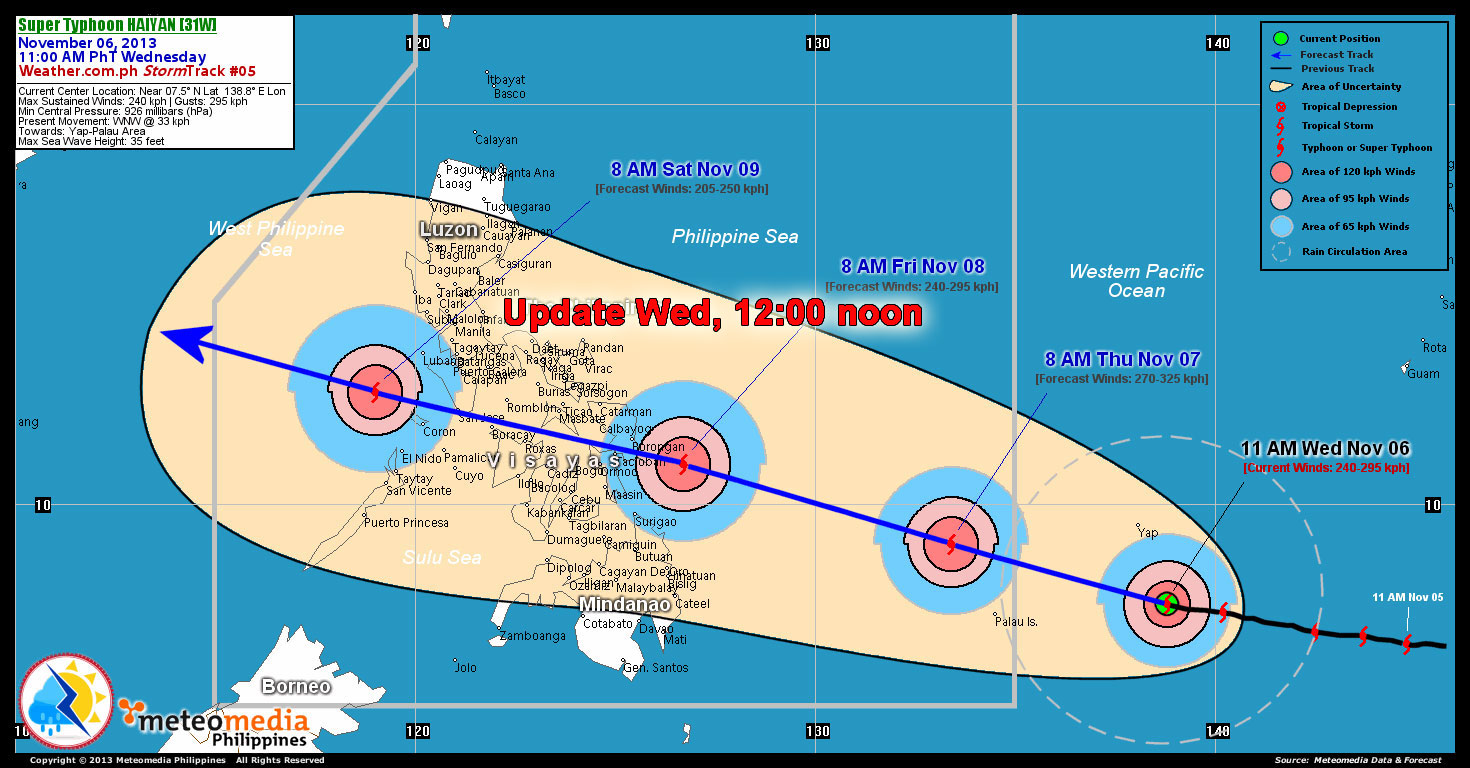 While there was no reason, other than utter laziness of the people in charge, to skip school on tuesday (the storm passed  Dumaguete on MONDAY at 7pm … 12 hrs earlier), the next storm is on the way. A tropical storm already transferred into a typhoon called Yolanda. The local name for the Typhoon is Haiyan.
Haiyan formed in the Western Pacific
On Tuesday the Typhoon formed south of the Marina Islands and is on its way towards the Philippines. Haiyan will reach Central Philippines Friday afternoon. It will carry a wind gust over 125 mph and deteriorate as it goes through the island country. Haiyan will approach the Philippines on Friday. The most likely scenario is that Haiyan will be a very powerful typhoon with wind gusts over 125 mph as it approaches the central Philippines. (source Accuweather). Rain and increasing wind will reach the central Philippines Friday afternoon and conditions will deteriorate from east to west Friday night into early Saturday as the powerful typhoon crosses the islands.
JTWC predicts Haiyan/Yolanda to be Supertyphoon
Meanwhile, the JTWC, an agency of the US Department of Defense, already categorized Haiyan as a supertyphoon with wind speeds of 241 kph.


https://dumaguete.com/wp-content/uploads/2014/08/09-19-550-Logo-Dumaguete1.png
0
0
Rechel DC-Team
https://dumaguete.com/wp-content/uploads/2014/08/09-19-550-Logo-Dumaguete1.png
Rechel DC-Team
2013-11-05 17:35:47
2014-10-04 11:18:14
Typhoon Haiyan (Yolanda) on the Way