Dagpin Family back in Tacloban
Many Dumagueteños saw the Dagpin Family on a facebook post of Dumaguete Information Office and Hulagway ug Kasikas sa Dumaguete; a family from Tacloban which are victims of typhoon Yolanda and got shelter in Dumaguete with relatives. Emely and family were washed away by the storm surge and stood afloat for hours before they could rescue themselves. They found shelter in Dumaguete with Dante Capistran and his Family in Candau-ay.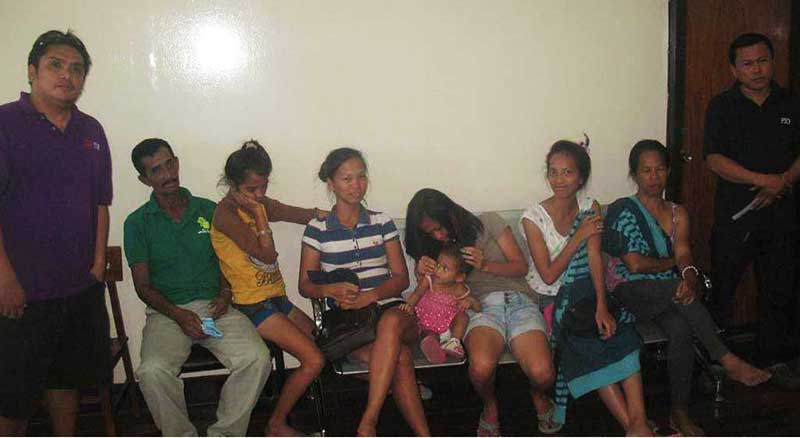 The mother and 7 kids between 21 and 1.5 years old wanted to go home to Tacloban urgently, after the DepEd announced, classes will resume 2nd of December. Two of the daughters are finishing college and high school this year.
As we have access to the money of the fundraiser held in Casablanca Restaurant, we thought, this is a great opportunity to support a family and help them to get back on track. We also prefer to help individually instead of giving money to an organization, which needs to sit down in many meetings (and waste time and money) to discuss the design of the T-Shirt for the helping operation.
We first contacted Dumaguete Information Office on November 27th to get some more info about the family. However, they were of course multitasking as at the same time the new elected Barangay Officials celebrated their oath taking, and a Lechon is just better when it is fresh. Therefore, we could not get any proper information out of them, let alone anybody who could make a decision.  Multiple text-messages remained un-replied and those which were said something like: No, we can't help them yet, maybe there are more refugees and we can get them out together. While we understand there are reasons for that, this "yes-no-maybe-but"-answers are just not good enough for us.
Meeting the Dagpin Family
After two days waiting, we decided to take things in our own hands and got in touch with the family. On Friday night 9:00 pm we met them in Candau-ay near the Barangay Hall to get a feeling for the situation. With them were their honorable, generous hosts, Dante Capistran and his Family.
The decision was done quickly, as we could see the desperation in their eye the second we met them. They looked a little bit as they could not believe us when we told them after 5 minutes, that we would take care of their trip back to Tacloban after they approached different local offices the previous days and did not receive any help. When we left 30 minutes later, they slowly realized that we are serious and a kind of happiness sneaked into their faces.
We drove from Candau-ay to the pier to check out the schedule of ferries to have different options. The family are no travelers and in this situation, we wanted to assure that all will work out perfect.
Early Saturday morning we got all finalized and told them, that their trip will start in the evening at 11:00 pm. After we purchased the tickets from Dumaguete to Cebu, we also bought basic school supplies for the girls, some food, milk for baby Gabrielle and some other urgently needed stuff.
Departure from Dumaguete
We met them again Saturday evening at 9:00 pm at the pier. Thanks to the announcement on the Facebook pages of Dumaguete Information Office and Hulagway ug Kasikas sa Dumaguete, they received additional relief goods. All was brought to the George & Peter Ferry, which left the Dumaguete pier at 11:00 pm, heading towards Cebu.
They arrived in Cebu at 6:00 am in the morning and after a quick breakfast, we purchased the tickets for Weesam Express to Ormoc. From there, they took the bus to Tacloban City. Sunday afternoon we received the text that they arrived safe in Tacloban.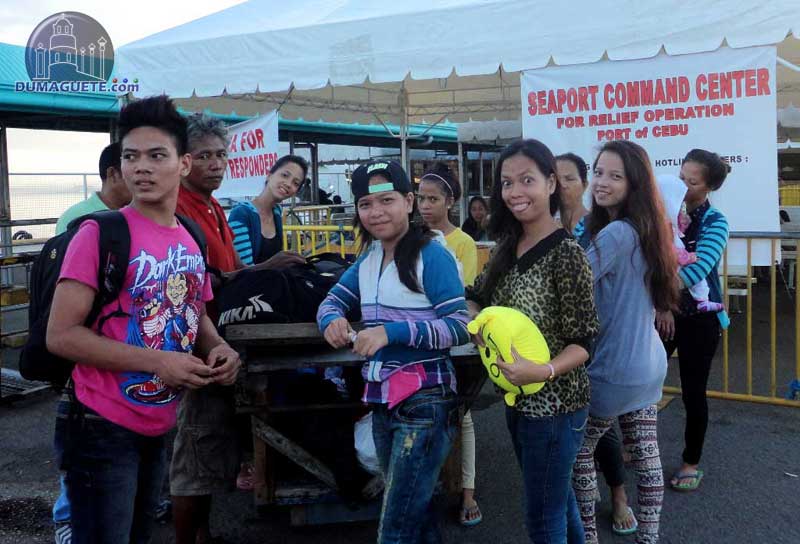 Emily, Nadine, Marianne, Marineth, Arianne, Sharmaine, Doreen, and 1.5 years old Gabrielle are back home, thanks to the generous guests of Casablanca Restaurant, the owner Gunther Sanin, Dante Capistran and his Family, and the effort of each and everybody, who send donations, prayers, relief goods and good thoughts from the heart.
May the smile of baby girl Gabrielle stand as a Thank You to all involved. Let's send our prayers that the whole family will never experience anything like this again, so that the smile on Gabrielle's face can last forever.

We will keep in touch with them to know how they do and if the girls get through their schools successful.
https://dumaguete.com/wp-content/uploads/2014/09/baby-gabrielle.jpg
800
600
Rechel DC-Team
https://dumaguete.com/wp-content/uploads/2014/08/09-19-550-Logo-Dumaguete1.png
Rechel DC-Team
2013-12-02 09:08:33
2014-09-30 15:48:42
Dagpin Family back in Tacloban