Basay is a town in the province of Negros Oriental in the Philippines. In the Philippines a town is basically a municipality or otherwise known as a "bayan" locally. These municipalities or towns are divided into different classes based on their annual income. The Basay municipal region is a fourth class municipality, meaning it has an average annual turnover of between 25 and 35 million Philippine Pesos. According to the latest census held in 2010 the town has a population of 24,913. This is slightly higher than 2007 data showing a population of only 22,713.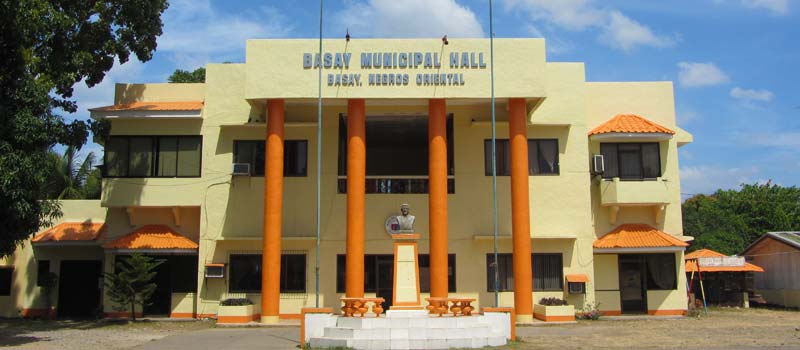 Location of Basay
The Negros Oriental province in which Basay is located, occupies the south eastern part of the island named Negros. This island consists of only two provinces, namely Negros Occidental and Negros Oriental. Basay itself is located in the south western part of the Negros Oriental province, and borders the island's other province of Negros Occidental. It is a small coastal town that faces the Sulu Sea to the west, and is popular by locals and tourists alike for fishing and diving expeditions.
Barangays of Basay Negros Oriental
Brief History of Basay
In World War 2 Colonel Jesus Villamor headed a party that landed a submarine in Balatong Point. This submarine carried the largest ever shipment of ammunition for the Negros Oriental region. Col Villamor was acting on direct orders by General Douglas McArthur who was in Australia at the time.
Basay used to be part of the neighbouring city of Bayawan, which lies about 15 km from the town itself. It got independence from Bayawan in 1971 when it became its own municipality. The town experienced rapid growth in 1970's when the Copper Development Corporation Mine and INKO group of companies started mining copper and iron ore in the region.
Today the local economy survives mostly on agriculture. The area produces sugar cane, corn and rice. It also has some of the richest fishing waters in the country where fisherman can regularly be seen in the Mindanao Sea. The region has a strong potential for tourism growth, with some of the most immaculate diving spots in the world.
Festivals in Basay
The Philippines is a Christian country full of various fiestas and festivals. The Negros Oriental province is no different and the province showcases various fiestas throughout the year in different areas – each fiesta is dedicated to the respective area's patron Saint.
The patron Saint of Basay is St San Nicolas de Tolentino and the festival is usually held on 16to 19 March. This fiesta is locally known as "Kapaw festival". "Kapaw" refers to an overflowing catch of fish. Basay is the province's fishing capital, and each year the fishing waters of the Mindanao Sea is visited by an extraordinary large schools of fish. These always results in an overflowing catch for the local fisherman, and hence where the name of the festival is derived from.
Useful Contacts of  Municipality of Basay

Basay Mayors Office: +63917 6984 061
Basay Head of Tourism : Analie Lobaton +63916 567 9533
Municipal Budget Office: Dionesio O. Baybay  +63917 325 0136
Municipal Engineers: Cecilia C. Estolloso +63915 540 6751
Municipal accountant: Romulo M. Jo Jr. +63917 325 0136
Municipal Assessor : Elsa Rebecca L. Torrillo +63927 622 4746
Municipal Assessor : Elsa Rebecca L. Torrillo +63927 622 4746
Municipal Health Officer: Jacqueline Ann B. Valencia, MD  +63917 314 3498
Municipal Agricultural Office: Edgardo G. Cayang +63918 338 7956
Sangungiang Bayan Secretary SB– Dielfa O. Omison  +63916 961 4267
MPDC:  Nilo S. Taleon +63906 903 3440
HRMO Designate : Edmundo E. Tubiano  +63926 730 9160
MSWDO Designate :  Rhea Grace T. Onganon +63927 663 8919
Basay Postman :Ranulfu Cadilinia +63912 959 6825
Basay Rescue/ Disaster Risk Reduction Management (DRRM) :  +63906 9033 440
Basay Fire Station Hotline:  +63915 756 2581 or +63935 342 6265
Basay Police Station Hotline:  +63917 6349 166
Basay Police Station Address: Barangay Poblasion, Basay Police Station