Santa Catalina – Negros Oriental
Santa Catalina is a municipality in the Philippines, in the province of Negros Oriental. It has 73,306 habitats, according to the 2010 census. The municipality of Santa Catalina is divided in into 22 barangays. Santa Catalina's topography is predominantly rolling hills, flat, and steep terrain. In the region, there are 27 springs and 8 rivers. The name of the Santa Catalina town is taken after the image of Santa Catalina de Alejandria, the town's patron saint installed in the community chapel.
Brief History of Santa Catalina
During the Spanish regime, the town of Santa Catalina was named Tolong. The first Spanish expedition to the region was in the year 1572 when a Spanish mission led by Adrien Lajot took possession of Negros Island. During that period there already existed settlements at Secopong, Daan Lunsod, and Cawitan. The beginning of Christian organization of the island was started by the Augustinian Friars. The population of Negros Island increased rapidly, and in the year 1890, the Spanish administration formed the Province of Negros Oriental, in order to achieve a better organization.
During the American regime the town of Tolong, the former name of Santa Catalina, could not meet the minimum requirements to qualify for becoming a municipality. During the World War II, Japanese occupation of the Philippines, the town of Tolong was the guerilla fighters movement's headquarters. After the war, Santa Catalina has become a municipality in the year 1947.
Getting to Santa Catalina
There are two practical ways in order to go to Santa Catalina. One way is by riding a Ceres Bus and the other is via a V-hire (van for hire). The Ceres Bus will take about 2 hours and a half and will cost Php 130 for air conditions rides and about Php 105.00 for non-air-conditioned rides. V-hire, on the other hand, will charge you only Php 100.00 for the two hours' ride in getting to Santa Catalina.
Pakol Festival of Santa Catalina
The Pakol Festival celebrates the contribution of bananas to the local economy. Santa Catalina's Sakobhan Festival is a fiesta that depicts the importance of the sugar industry. Other festivals and fiestas are inspired by the Christian religious traditions. The celebrations in the municipality start usually one week ahead of the actual municipality fiesta on April 24 to 25. The Highlights being the search for Miss Sta. Catalina and of course the Street Dancing and Showdown of the Pakol Festival.
Barangays of Santa Catalina Negros Oriental
Alangilan
Amio
Buenavista
Kabulacan
Caigangan
Caranoche
Cawitan
Fatima
Mabuhay
Manalongon
Mansagomayon
Milagrosa
Nagbinlod
Nagbalaye
Talalak
Obat
Poblacion
San Francisco
San Jose
San Miguel
San Pedro
Santo Rosario
Economic Outlook
The town of Santa Catalina has an economy based mainly on fishing and agro-tourism. Santa Catalina is a great producer and exporter of bananas. Vast sugar cane plantations are located in the south of the town. Santa Catalina is also becoming more interesting for local tourists. The tourism sector starts to create more and more income and jobs for the locals.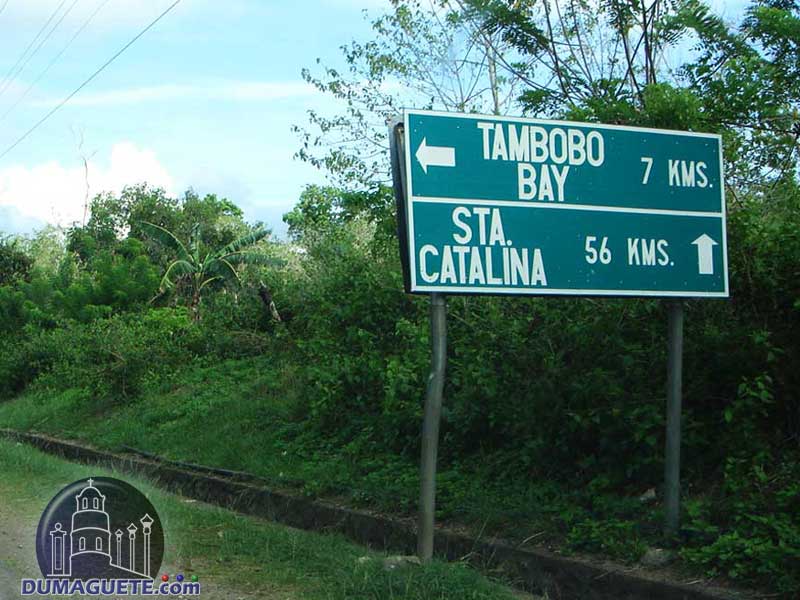 Schools in Santa Catalina
The town of Santa Catalina has primary and secondary schools only. For higher education in college and universities the students are going to Dumaguete, the provincial capital.
Public Elementary Schools in Sta. Catalina
Elementary Schools in Sta.Catalina North
| | | |
| --- | --- | --- |
| Amio Elementary School | Kakha Elementary School | San Miguel Elementary School |
| Avocado Elementary School | KanggabokElementary School | San Vicente Elementary School |
| Aw-a Elementary School | Manggolod Elementary School | Sta. Catalina Central Elementary School |
| Buenavista Elementary School | Mansagomayon Elementary School | Sta. Catalina Science Elementary School |
| Caigangan Elementary School | Nagbinlod Elementary School | Sto. Rosario Elementary School |
| Caranoche Elementary School | Obat Elementary School | Sto. Tomas Elementary School |
| Cawitan Elementary School | Omol Elementary School | Talalak Elementary School |
| Danao Elementary School | Omoso Elementary School | Tamlang Elementary School |
| Kabulakan Elementary School | San Jose Elementary School | Tubod Public Sschool |
Elementary Schools in Sta.Catalina South
| | | |
| --- | --- | --- |
| Ambrosio M. Ramirez Elementary School | Fatima Elementary School | Marcelino E. Elligan-Banlas Elementary School |
| Bago-Bago Elementary School | Hingles Elementary School | Nagbalaye Elementary School |
| Baknit Elementary School | Jagna Elementary School | San Francisco Elementary School |
| Caniogan Valley Elementary School | Mabuhay Elementary School | San Isidro Elementary School |
| Carmen Teves Tia MES | Malatubahan Elementary School | Elias R. Macias Memorial Elementary School |
High Schools in Sta.Catalina
Budlasan High School

Pinamentigan, Budlasan
Contact: 0906 6358 963


Jose B. Cardenas Memorial High School

(Canlaon City National High School)
Exodus Avenue, Panubigan
Contact: 0905 4158 663

Jose B. Cardenas – Bayog HS Extentinsion

Barangay Bayog
Contact: TBA

Useful Contacts in Santa Catalina



Santa Catalina Municipality Tel.no. (035) 400 4354;  531 0667
Santa Catalina Mayor: Peve Obaniana Ligan office: (035)400 3266
Santa Catalina Vice Mayor: Karl Patrick Sablas Jardiniano.
Mayor office Tel. no. (035) 400 3266 Mobile: 0917 105 9627
Santa Catalina Head of Tourism: Mr. Widmark P. Alanano 0926 572 9168
Santa Catalina COMELEC officer: Rina Elnar 0917 371 1907
Budget Office: (035) 428 – 0096
Engineering Office:(035) 531 -0297
Treasurer's Office:(035) 531 – 0847
Accounting Office : (035) 531 – 0870
Agriculture's Office: (035) 531 – 0845
Sangguniang Bayan Office:(035)  531 – 0544
Local Civil Registrar Office:(035) 531 – 0667
Health Center: Tel 428 0037
Fire Station Tel: 0917 859 8768
Rescue Team: 0955 329 6166
Disaster Risk Reduction Management (DRRM) Mobile no. +63917 320 6648
Santa Catalina Police Station  Hot Line  0916 776 8083 (035) 531 0595;
Sanata Catalina Police (PNP) Mobile: 0916 776 8083
Santa Catalina Police Station Address:Poblasion Santa Catalina, Negros Oriental Philippines.