Yagyag Festival in Sibulan
The Yagyag Festival in Sibulan is based on the spawning ritual performed by the thousands of land crabs such as the "Cagang" (cardisoma carnifes) and "Alalasan" (episesarman singaparense) along the shores and riverbanks of Barangay Cangmating during the last quarter of the year.
The phenomenon alerts the barrio folks to prepare their covered bamboo baskets (Bakat), torches made of dried coconuts leaves (sulo), and banboo crab traps (pasgong) to move out to the spawning grounds to gather the crabs.
This offers a livelihood income for the barrio folks as they can exchange or barter it with farm crops from neighboring barangays, aside from it its providing delicious scrumptious meals in their respective homes.
The Roots of YagYag Festival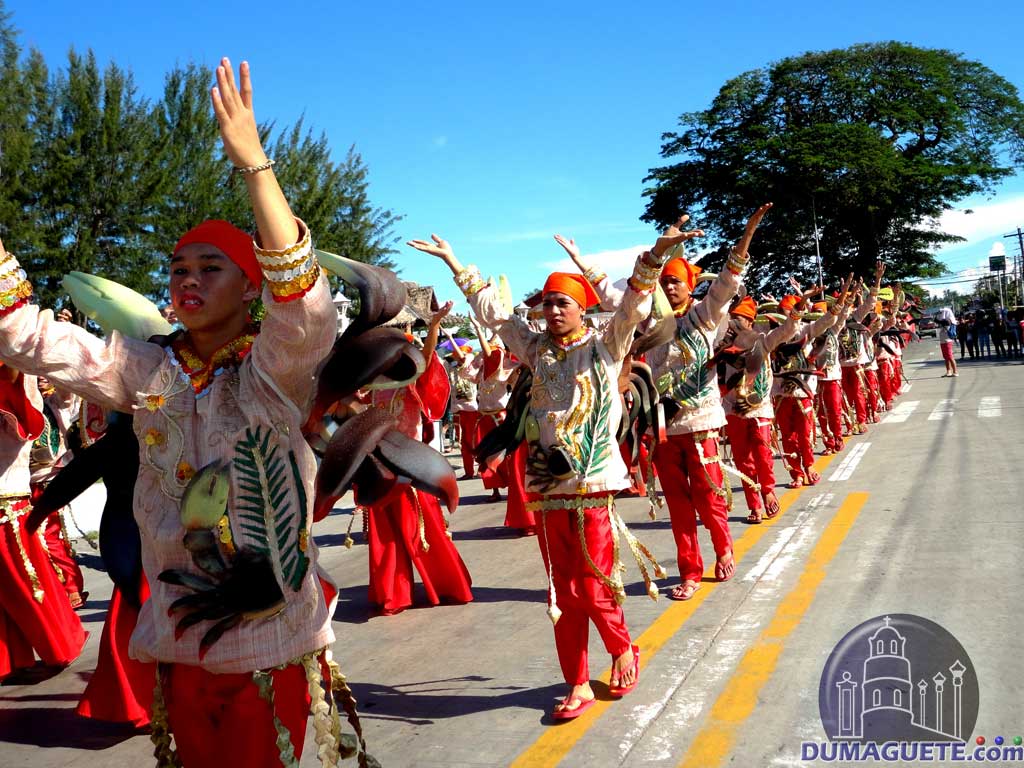 From that lasting tradition the Yagyag Festival was born, to preserve and honor the custom of harvesting crabs during the Yagyag or spawning season. The Barangay government initiated holding the Yagyag Festival, six purok composing Barangay Cangmating enter into a friendly competition with each other by depicting or imitating the movements of the crabs during the courting, mating and spawning process.
The movements dramatize the traits inherent in the Filipino's unity, solidarity, heroism, and self sacrifice to preserve the community and the nation.
To commemorate this generous natural resource, the Barangay folks stage the Yagyag Festival where imitate the movements of the land crabs in lively rhythms. The festival culminates in a celebration of the cycle of life those windows Cangmating with nutrition and livelihood.
The YagYag Street-Dance Competition
The competition is widely awaited by residents of neighboring barangays, municipalities and cities because of the very colorful and unique presentations, the skills and the ability of the dancers, their creativity in portraying the crabs as well as the camaraderie displayed by all residents before and during the festival.
A salient feature of the festival is the imitation and mimicking of the land crabs characteristics by demonstrating through dance their unity and  solidarity by keeping close ranks and moving along a common agenda that propagating their kind and of protecting their young. Through this tapestry and choreography, the crabs have renewed their existence in this unending cycle of life.
YagYag Festival – a True Champion
The festival has been adjudged the National Champion of the 2003 best of the bests, WOW Philippines best festival and street dancing and the 2005 Sinulog de Cebu street Dancing Competition Grand Champion.
Check out our gallery of Sibulan's YagYag Festival 2014
https://dumaguete.com/wp-content/uploads/2014/10/Sibulan-yag-yag-festival-street-dancing-scene.jpg
768
1024
Rechel DC-Team
https://dumaguete.com/wp-content/uploads/2014/08/09-19-550-Logo-Dumaguete1.png
Rechel DC-Team
2014-04-23 10:41:52
2014-10-08 06:24:43
Yagyag Festival in Sibulan