Office of the City Agriculturist offers Public Service
Republic of the Philippines City of Dumaguete Office of the City Agriculturist offers a public service.
Provision of "PLOW Now Pay Later" Program.
Steps how to avail of Service for Applicant or Client.
Write letter to City Agriculturist expressing interest to avail of the Plow Now Pay Later Program.
Guide Agricultural  technician during site inspection and validation
Submit photo copy of I.D. and Residence Certificate.
Sign the Duly prepared MOA for approval by the City Agriculturist and President of Farmers' Federation.
Wait for the date and schedule of services (first come first serve basis)
Assist in actual Plowing.
Steps of Administrator's Office activities for the Applicant or Client
Interview the applicant then the approval by the assigned agricultural technician.
Conduct field inspection and validation for 1 day (the person in charge would be agricultural technician and the client.
Preparation of PNPL (Plow Now Pay Later) Memorandum of Agreement (person in charge Encoder/agricultural technician and Client.
Facilitate signing MOA ( person in charge  agricultural technician)
Inform the beneficiary of the plowing schedule
Farm tractor operator undertakes the operation for 1 day or depending on the size of the area.  (Person in charge agricultural technician and the client.)
Note: Pay the actual cost of farm tractor operator and fuel/expenses after harvest to the City treasurer's Office.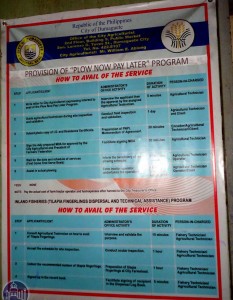 Inland Fisheries (Tilapia Fingerlings Dispersal and Technical assistance) Program
Steps How to Avail of the service of City Agriculturist:
Consult Agricultural Technician on how to avail of Tilapia Fingerlings.
Accept the schedule for site inspection. (Agriculturist will conduct ocular inspection.
Collect the recommended number of tilapia fingerlings (preparation of tilapia fingerlings at City Farmstead.)person in charge is fishery technician/ agricultural technician.
Signed up in the record book. The administrator will facilitate signing of recipient in the dispersal log book. Person in charge is fishery technician/ agricultural technician.
For more Question and information please visit and call:
Office of the City Agriculturist
Second Floor Building 9 Public Market
Sen. Lorenzo G. Teves Street
Dumaguete City
Tel: (035) 422 – 8107
Head of the City Agriculturist: Mr. William E. Ablong
https://dumaguete.com/wp-content/uploads/2014/08/City-Agricultur-Banner.jpg
986
768
Rosario - DC-Team
https://dumaguete.com/wp-content/uploads/2014/08/09-19-550-Logo-Dumaguete1.png
Rosario - DC-Team
2014-05-15 05:05:13
2014-08-18 05:11:36
Office of the City Agriculturist offers Public Service