The search for Miss Siaton is part of the annual Fiesta celebrations of the municipality in the South of Negros Oriental. The event started spot on at 8:00pm with a delay, followed by national anthem, invocation, and the Siaton hymn sung by the Siaton East District Teachers Choir, loooong speeches and of course a power-shortage, leaving the seven contestants standing in the dark. We used the waiting time to get a few shots of local VIPs before finally past 10:30 the real event and the search for Miss Siaton 2015 began.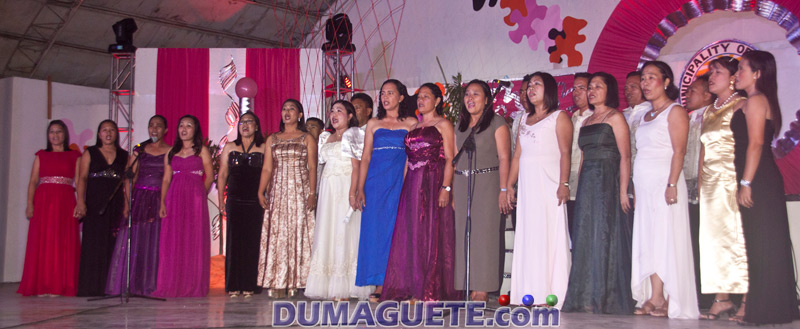 Miss Siaton 2015 Production Number
"Pretty in Pink" describes best what the lovely ladies showed to the spectators in the packed gym, but see yourself.
Miss Siaton 2015 in Army Play Wear
Politically correctness seems to rule out the Bikini round in many places in the Philippines, even it is certainly the most anticipated presentation of each beauty contest. Having said the, the organizers found with the Army Play Wear a good alternative, which is more "conservative" but still sexy.

Miss Siaton 2015 in Evening Gown
Yellow was the color of the evening for the evening gown. The seven contestants entered the stage in Escort of a young gentlemen, who fought for the title "Man of the Night". Just to make it clear, the "Man of the Night" is an award for the guys, not a reward for the ladies to keep them entertained after the show.

Congratulations Miss Siaton 2015