Miss Negros Oriental 2015
Buglasan Festival 2015 kicked off with the first highlight, the coronation night of Miss Negros Oriental 2015. The beauty pageant was the first of its kind (since 15 or so years). The last years the equivalent contest was called Miss Negros Oriental Tourism. While the later was held on the big stage in Freedom Park in front of uncountable spectators the organizers decided to move the coronation night of Miss Negros Oriental to the Lamberto Macias Sports and Cultural Complex. This had the effect that most visitors of the Buglasan Festival opening day decided not to attend the event. The VIP and sponsor seats were filled, while the bleachers remained 2/3 empty. Add to the misery that the start was announced for 8:00 pm and it was past 9:00 pm until the coronation night started with the prayers, hymns and anthems.
Now you can ask yourself where you rather want to be, sitting on a chair waiting waiting waiting, or enjoying the opening night of Buglasan Festival at Freedom Park with great food, drinks, action and performances in each corner.
Miss Negros Oriental 2015 – Production Number
Finally the show started with the production number. The Miss Negros Oriental 2015 organizers took full advantage of the big stage with the candidates being on three different levels. Our compliments for a very nice stage setup. The 13 lovely contestants entered the stage in a rather "unusual" outfit which, but once again, the DC-Team is way over 30 and might not understand the design idea behind this coat.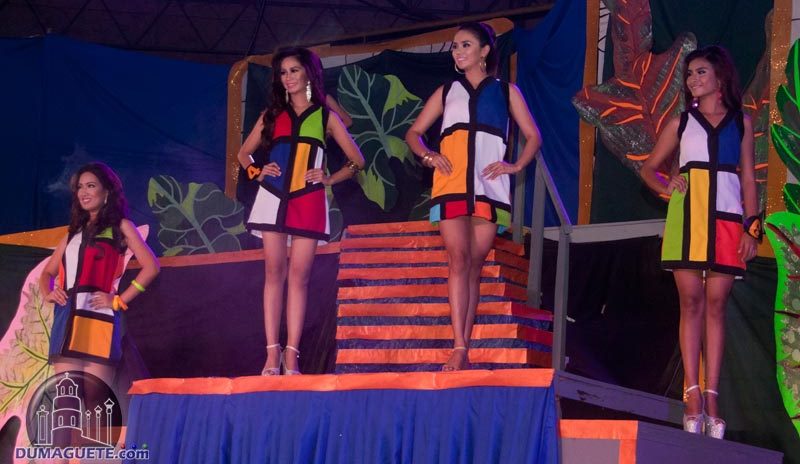 .
Here some of the VIPs, Sponsors and helping hands which are all needed to make an event like this possible.
.
Another big compliment to the organizers as the went against the actual trend to be political correct and allowed the candidates to present themselves in Bikini instead of coming up with some nonsense "play-wear" or any other fantasy name we heard at other contests in the last years. The bikini round was without any doubts the highlight of the event. Leave a comment if you disagree…
After a break to give the candidates time to change the talent round started. We won't write much about it, as it felt in line with the typical talents seen 1000 times. belly dancing, singing, some theater-kind of stuff and dancing. The opinions about the talents may vary from supporters of the candidates to the rest of the crowd
Miss Negros Oriental – Evening Gowns
Last but not least the candidates in their evening gowns. The choreographers took full advantage of the big stage and the three levels and the candidates showed how gracefully how to fill this big area with elegance.

Miss Negros Oriental 2015
Congratulations Trixia Marie Maraña