Whale Shark Watching in Oslob
Whale Shark Watching is on the bucket list of many people around the world. Since a few years, the "Butanding Tours to Oslob" on Cebu Island are famous with tourists and locals. While many are using local your operators to organize the trip or go from one of the Dive Resorts in Dauin on a day trip to dive or snorkel with the whale sharks, it can also be done by public transports from Dumaguete. This will save some Peso and is good fun. The DINS-Team made this trip recently. We were 5 people; three adults and two teenagers.
How to get from Dumaguete to Oslob
As the Whale Shark Watching is limited to the morning (6:30am to 12:30 noon) one needs to start early. At 6.30 we got on the way from Dumaguete to the Sibulan Seaport just north of the Dumaguete to catch a ferry across the Tañon Strait, which separates Negros from Cebu.



Depending on the personal preferences, on has the choice between a public bus (Ceres Liner) a multicab (small Jeepney) or pedicab (Trike). The bus is only 10 Php per person.From 5:00 am on ferries or pumpoats go each 30 minutes to Liloan until 7:00 pm in the evening.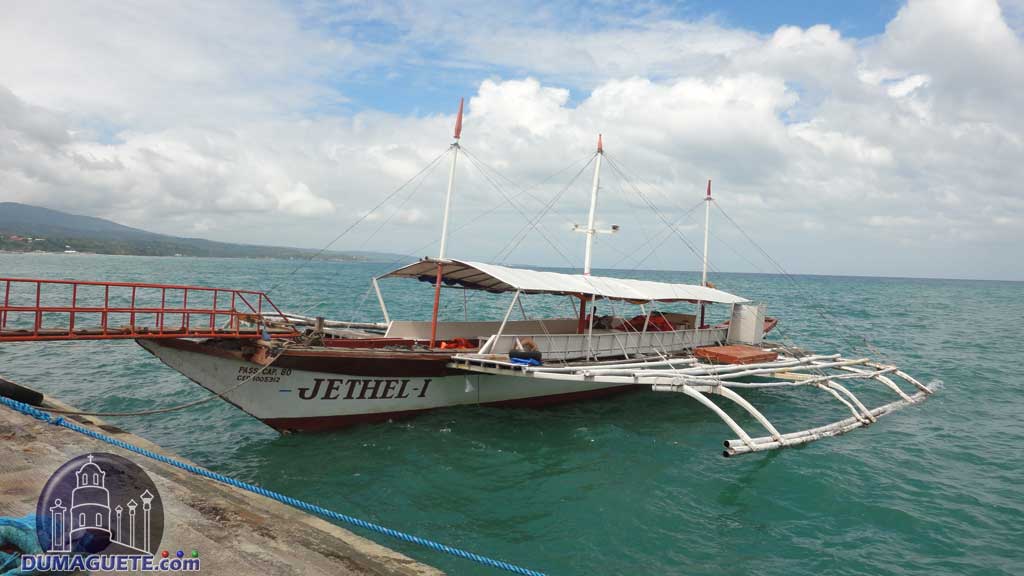 The regular fare for the fastcraft is 62.00 PHP, for the pumpboat it is 45.00 Php (including 10.00 Php terminal fee). Pumpboat and fastcraft offer discounted rates for senior citizens, students and children.
Ferry Schedule from Sibulan to Liloan and back
From Liloan/Santander to Oslob is another half hour ride. There is always a bus waiting for arriving passengers. There are also Tricycles waiting to bring you to the Whale Shark Sanctuary in Oslob. We paid 200 Php for five persons and were 30 Minutes later at the beach in Tan-awan/Oslob.
All together the DINS Team spend only 560 Peso on fares for 5 persons, getting from Dumaguete to Tan-awan/Oslob
Alternative route from Dumaguete to Oslob
Another option is to get to the Ceres Bus Terminal in Dumaguete and book a ticket for a bus heading to Cebu City. Let the assistant on the bus know where you want to go and they will stop and drop you off at the Whale Shark Sanctuary in Oslob. That way one does not need to leave the bus until you reach your destination.
The Whale Shark Experience in Oslob
Many resorts and sheltered areas have been built since the Butanding were discovered. The one we chose had a fee of 100 Php per head. That included the use of a cottage as well as a safety locker for our belongings.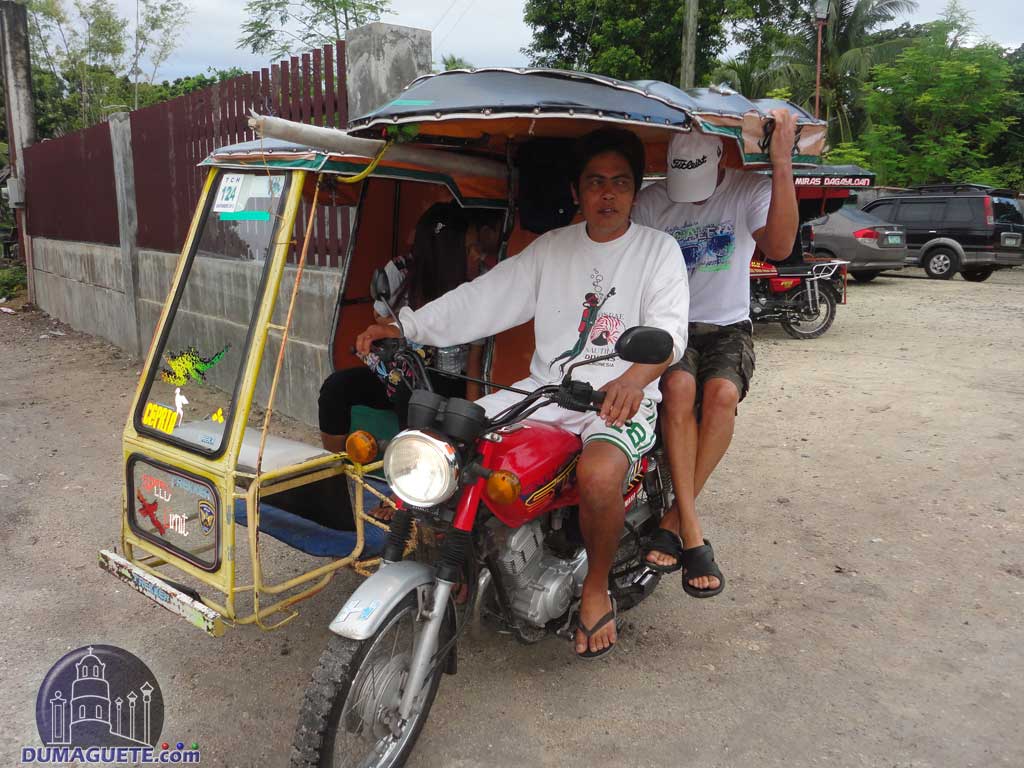 Three different options for Whale Shark Watching:
Just sitting in a boat 300.00Php – Foreigner 500.00 Php
Snorkel with Whale Sharks: 500.00 Php – Foreigner 1000.00 Php
Diving with Whale Sharks: 600.00 Php – Foreigner 1,500.00 Php
Mask and Snorkel are included in the fee, Scuba gear need to be brought or rented locally separate.
The operators in Oslob also offer underwater cameras for rent for 500.00 Php. If you bring a USB flash drive, they copy all pictures from the camera to your drive. Otherwise one pays additional 50.00 Php fees for a CD.
Before interacting with the Whale Sharks one needs to attend a 5 minutes "seminar" about the rules and regulations for snorkeling, diving or swimming with the Butanding.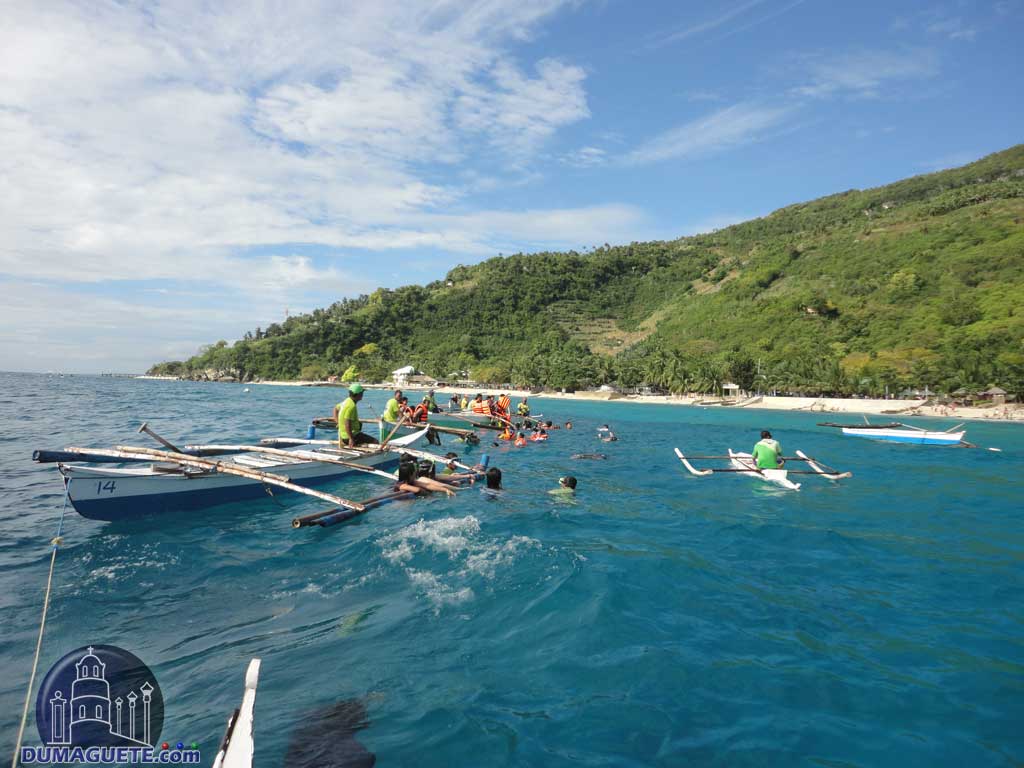 After that the snorkel gear and life-vests are handed out and your assigned guides bring you to the beach, where you get on the assigned boat.
Your time with the gentle giants of the ocean is normally limited to 30 minutes. When getting there during the week or early morning on a weekend, this half hour is stretched up to 45 minutes.
All guides and helper at the Whale Shark Sanctuary in Oslob are very helpful. The two assigned to the DINS team helped us with each getting in and out of the boat, took the pictures with the UW camera, carried our stuff and were smiling all the time.
What else to do in Oslob
After the snorkeling with the whale sharks most people are certainly hungry. There are a few restaurants and food-stalls in the area which mainly offer Filipino food and BBQ as well as cold drinks.
The DINS team had a bite to eat and decided to be lazy and just hang around at the beach. One option in Oslob is to visit the Tumalog Falls (also called Mag-ambak Falls or Toslob Falls). The waterfalls are only a 20 minute ride and a rather steep path from the whale watching sanctuary.  They are truly beautiful and well worth the few peso entrance fee.

For the way back from Oslob to Dumaguete, we used the same options (trike, fastcraft, bus) and paid again 560.00 Php for five people to get back to Dumaguete.
Prices for the whale shark trip when starting from Dumaguete City
(5 people- 2 local, 1 foreigner, 2 students)
| | |
| --- | --- |
| Transfer Dumaguete Tan-awan/Oslob: | 560.00 Php |
| Entrance fee resort (cottage and locker): | 500.00 Php |
| Whale Shark Experience (all five snorkeling): | 3,000.00 Php |
| UW Camera rental: | 500,00 Php |
| Transfers back to Dumaguete from Tan-awan/Oslob: | 560.00 Php |
| Total for 5 persons | 5,120.00 Php |
Total 5,120 for the five of the DINS-Team or 1,024.00 Php per head is less than US$ 25.00 and less than 20 Euro per head for an experience many people all over the world have on their bucket-list.
The above mentioned prices don't include any food and drinks. We think that comes down to ones own preferences. We brought some water and snacks from home and had a bite to eat and some shakes and soft-drinks in Oslob. Altogether we spend less than 1,500.00 Php on food and drinks for the whole day for the five of us.



Additional Advices for a whale shark watching trip to Oslob from Dumague

te
Bring your own snorkel gear and fins if possible. Some of the rental stuff in Oslob is really crabby and you don't want to mess up the day with a badly fitting mask or a broken snorkel.
Bring a T-Shirt or dive-skin for skin protection. Any kind of lotion is prohibited in the whale-shark sanctuary. If you sit on a boat on the open ocean or snorkel in the sun, the 30-40 minutes in or on the water are enough to burn your skin badly if you are not used to the sun.
Bring a flash drive. It is just easier to carry than a CD for your pictures of the whale shark encounter, if you don't have your own camera.
Drink enough water before and after swimming with whale sharks. Don't get dehydrated!
Have fun and a great time swimming with Whale Sharks in Oslob!
Just drop us a line if you have any comments, questions, suggestions or want to share your own experience with us.