No fiesta without a beauty pageant. The search for Miss Guihulngan 2015 took place at the cities covered court in front of a full house and many VIPs. Spot on at 9:00pm it was time to start the event. The DC team had its room in the government Guest House of Guihulngan City which is just adjourning the covered court. While the disco kept us awake at night, the location had its benefits in this case. We could stay in the room until we could hear the national anthem before we walked the 2 minutes to the auditorium.

With this rather early start, the whole audience was in good spirit and cheered frantically when the 11 candidates went on stage presenting their jaw-dropping, colorful festival costumes.
Of course we need to acknowledge all guests, judges and other VIP, all lead by Mark Macias and George Arnaiz, Mayor Carlo Jorge Joan L. Reyes and Vice Mayor Ernesto A. Reyes
There was also a talent-round and you – the valuable site visitors – are the winner. You only see the pictures and don't hear what sounded like a bunch of cats having fun around midnight. Like observed at the last few events, this round is really just to stretch the evening for another hour or so. Dancers who can't dance, singers who can't sing and some dramatic shouting.
Once again, we are sure the candidates have many talents, their handlers obviously picked the non-existing ones. As the contestants are still lovely young ladies, we want to share the pictures of the Miss Guihulngan 2015 "talent" round.
To give the Miss Guihulngan 2015 candidates a little time to change their outfit (and the audience time to seek medical advice from a hearing doctor), the organizer hired two awesome artists from San Carlos. They are part of a group called "Synergy Dance Troupe". What the two presented high up under the roof of the auditorium let many in the audience hold their breath. Synergy was participating in "Pilipinas got talent season 3". Whenever any of you guys read an announcement that "Synergy" will perform, better watch it, you won't regret.


Next round of the search for Miss Guihulngan 2015 was the production number and the – of course most anticipated- bikini round.
After some greetings by honorable Mayor
Carlo Jorge Joan L. Reyes
the candidates re-entered the stage in their evening gowns.

Congratulations Miss Guihulngan 2015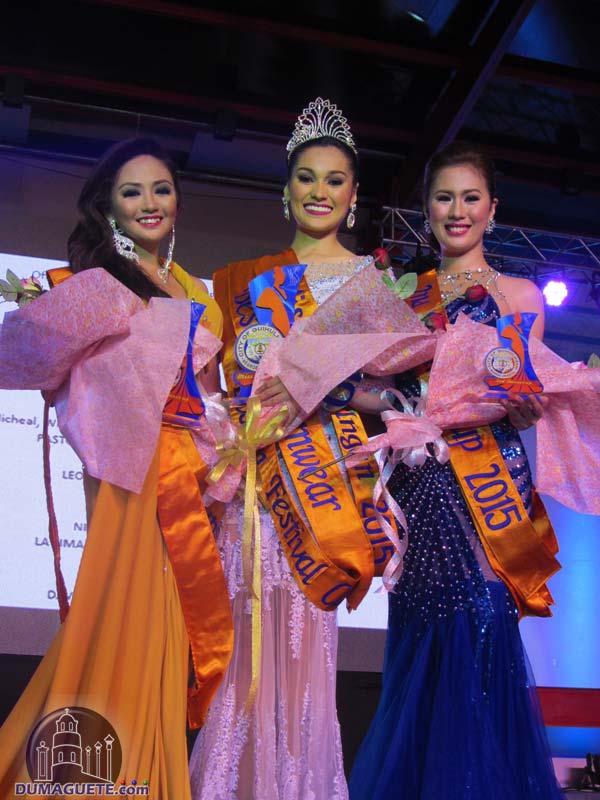 https://dumaguete.com/wp-content/uploads/2015/05/Festival-Costume-Miss-Guihulngan-2015-005.jpg
768
1024
Rechel DC-Team
https://dumaguete.com/wp-content/uploads/2014/08/09-19-550-Logo-Dumaguete1.png
Rechel DC-Team
2015-05-27 21:10:28
2018-05-20 07:59:59
Miss Guihulngan 2015