Mifune Japanese Restaurant
Mifune – Japanese Restaurant opened already 2009 in Sta. Catalina street. In the meantime Mr. Naga, the original owner, sold Mifune, but still has quite some influence there. With the change of owner, a new seating with more Japanese-style benches replaced the cheap plastic chairs. While the new benches are still cheap quickly hammered-together plywood, they look much better and fit more into a Japanese place.
The food is as good as Japanese food can get in a city like Dumaguete. If one never had the experience of an authentic Japanese restaurant, he/she can get an idea what it is supposed to be.
Dumaguete is not the place where authentic Japanese food can be created and customers are willing to pay the appropriate price for it. The large menu offers something for everybody to an affordable price.
Mifune – "All you can Eat" Buffet
Mifune Japanese Restaurant has an "Eat all you can" Buffet each Tuesday and Saturday  for PHP 333.00. The price includes free "All-you-can-drink" Ice-Tea. The buffet is a perfect option to try different dishes.
If you are a group, you probably will spend less when ordering from the regular menu. Their Japanese style Pizza is very filling. It has nothing to do with Pizza, but is super-yummy. You can watch how it is done one the Teppanyaki grill.
Some more pictures of Mifune Japanese Restaurant in Dumaguete
Most dishes are also for take-out. Just give them a quick call an hour before you get it, or order and wait for 20 minutes while your dish is fresh prepared.
Mifune Japanese Restaurant offers also catering for parties. If one needs something special and different, get a sushi-sashimi platter for your next celebration. Your family, friends and guests will love it.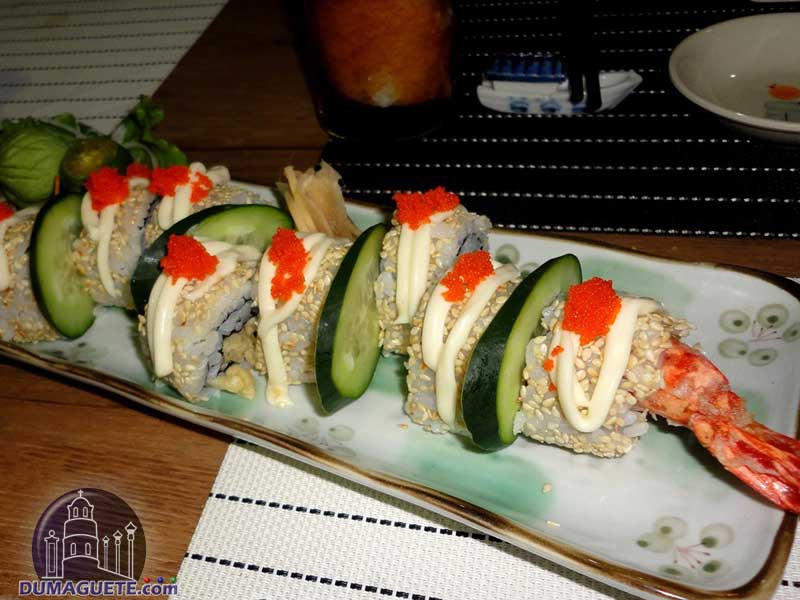 Address:
Mifune Japanese Restaurant
Sta. Catalina Street,
Dumaguete City
6200, Philippines
Operating hours: 10:00 am-10:00 pm