Made in Negros Oriental Fair 2014 – Nutrition Month 2014
Made in Negros Oriental Fair 2014 – Nutrition Month 2014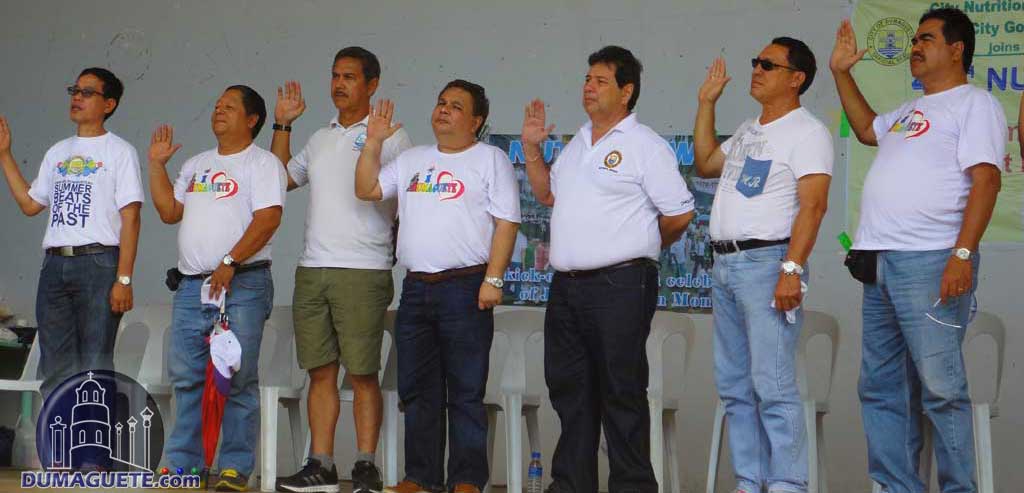 July is traditionally the Nutrition month in most schools all over the Philippines. Also several government offices and businesses are organizing events to educate people against malnutrition. Last weekend was the official Kick-Off with the Nutri-Walk from Robinsons and Quezon Park to the Aquino Freedom Park.
Mayor of Dumaguete City Manuel Teves Sagarbarria Give The Plague of Recognition in different categories award. one of this is most creative group barangay category , Barangay Uno Tinago, got the said award headed by Barangay Chairman Orlando Angot, and barangay council Saulo Paul Baybay.
Here some pictures from the Freedom Park Assembly
Below some activities taking place during the Nutrition Month in Dumaguete
July 15 – 20, 2014 Atrium Robinsons Place Dumaguete City 10:00 am to 6:00 pm
To celebrate: MSME Week , Science & Technology Week, CARPER Week,ICT Month
Schedule Of Activities:
July 07 2014 Gender Sensitivity training from Department Of Agrarian Reform (DAR)
July 08 2014 Skills Training on Lamination from Department of Trade and Industry Philippines (DTI )
July 10 2014 Project Labeling from Department of Trade and Industry Philippines (DTI )
July 12 2014 (9:00PM) Bell tower Project @ Hayahay from (ICT Dumaguete)
July 14 2014 AM Motorcade / Mass from DAR
July 15 2014 AM farmer Beneficiary Installation @ Tanjay City from DAR
July 15 2014 @ 4 PM Opening of Negros Oriental Fair – DTI
July 16 2014 AM – Green Growth Opportunities for Tourism, Food & Industries
@ 1:00 PM Food Track , Energy track @ Bethel Guest House – DOST
@ 1:00 PM On- The- Spot Poster Making Contest @ Robinsons Place Dumaguete – DAR
July 17 2014 Introduction to Intellectual Property Rights @ Bethel Guest House – DTI, IPO-Phil.
July 18 2014 (AM) Industry Forum: A Dialogue Between ICT & Education Industies — ICT Dumaguete
@ 6:00 PM Talent Night @ Robinsons Place Dumaguete – ICT Dumaguete
July 19 2014 @ 4:00PM Speed Typing Competition – ICT Dumaguete
@ 5:00 PM Mock Call Competition – ICT Dumaguete
July 21 2014 Legal Information Drive @ SU / FU
July 27 2014 @ 5:00PM ICT Fun Run ( Kick Off Teletech – ICT Dumaguete
July 29 2014 Regional ARB Summit – DAR
And here are some images of the Nutrition month culmination at Quezon Park:
https://dumaguete.com/wp-content/uploads/2014/08/Nutri-walk-01.jpg
768
1024
Rechel DC-Team
https://dumaguete.com/wp-content/uploads/2014/08/09-19-550-Logo-Dumaguete1.png
Rechel DC-Team
2014-07-13 00:04:38
2018-05-20 08:00:38
Made in Negros Oriental Fair 2014 – Nutrition Month 2014