Guest Houses & Resorts in Mabinay
To discover the tourist spots in Mabinay one should take a little bit time and spend at least a night or two in one of the guest houses or resorts in Mabinay. The hotels and guests houses in the mountainous municipality are rather basic and tourists should not expect any 4-star accommodations in the center of Negros island. However, we found all of them very friendly and accommodating.
Mabinay Spring Resort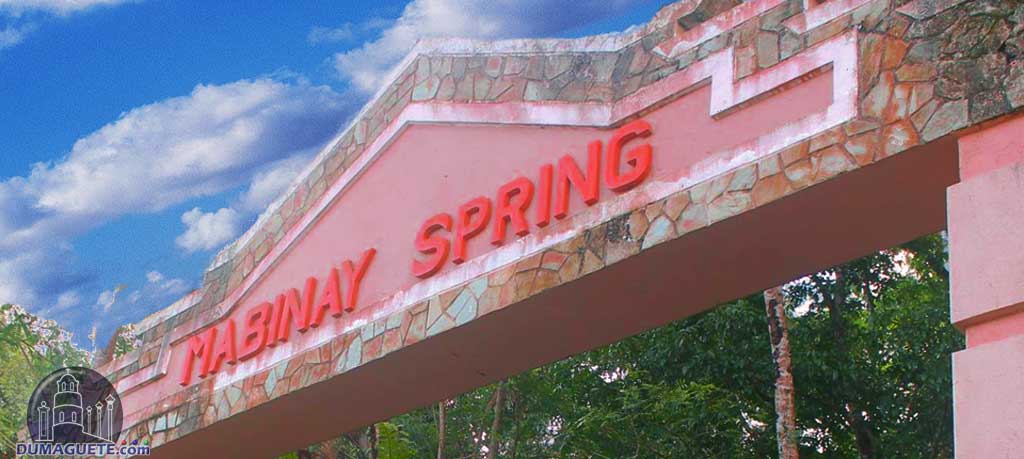 Mabinay Spring Resort would be the first choice for traveler. Located at Poblacion Mabinay, just walking distance from National Road bound to Dumaguete City and about a 10 minute stroll from the terminal, its location is very convenient and in walking distance of eateries and small restaurants. The government owned place has different options. Whether you want to stay in the cute small houses close to the swimming lagoon or the newer buildings by the pool is up to the traveler. In both cases one will find a basic room with a bathroom.
Mabinay Spring Resort is beautifully placed in a tropical forest. It is a famous place with locals to spend some quality time with family and friends. A big swimming lagoon builds the center of the place. Visitors have also the options to get high up between the trees and enjoy the canopy walk or "fly" above the lagoon on a Zip-Line. The entrance Fee at Mabinay Spring is Php 10 for adults and Php 5 for children. Open cottages can be rented for day-use for only P 250.00 a day. Other fees may avail, depending which facilities guests want to use:
Accommodations at Mabinay Spring Resort
Cabana – good for 3 person – P1,200 a day, additional P150.00 person head
Family Room – good for 4 person – P1700.00 a day
Twin Room – good for 2 person – P1,200.00 a day (add. person P200.00)
Other Fees
Swimming pool: adult P75.00, children P50.00
Kayaking   P50.00 good for 2 persons 30 minutes
Canopy Walk P150.00 per person
Zipline P150.00 per person maximum of 70 kilos only
Contact of Mabinay Spring: 0926 165 1106 or 0975 475 6649 call now.
Cristito Tirambulo Highland Resort
Like the whole municipality, Cristito Tirambulo Highland Resort is a smoke-free environment. The name of the resort originates from the owner, a former mayor of Mabinay. It has 7 houses and a cottages which is good for up to 8 persons. The pool and the playgrounds are kiddie-friendly. Teenager and adults will enjoy kayaking and swimming in the lake. Refreshments and snacks are available at the Restaurant of Highland resort.
Accommodation at Tirambulo Highland Resort
White cottage 2,500 peso per day (good for 8 person)
Duplex 1 – small house 2000 peso per day (good for 4 person)
Duplex 2 – small house 2000 peso per day (good for 4 person)
Rooms – 1,500 peso per day (good for 2 person) (2 rooms only)
Twin room – 600 peso per day (good for 2 person)
Big Blue House: 3000 peso per day (good for 4 person)
Contact of Tirambulo Highland Resort: 0907 628 7236
Lodging Houses in Mabinay
GRV Eco Lodging House
3 rooms, 1 cottage
Aircon room private bathroom P580
extrabed/person P180
Aircon room good for 2 P150 per person per day
Restaurant,Snacks, conference room, sounds system,
function room good for 10pax
National Highway, Tadlong Mabinay
Proprietor Romeo V. Visitacion 0920 893 7552
Mabinay Lodge
5 rooms Plobacion Mabinay
Fan-room with shared bathroom P100
Manager Ronald M. Abrio mobile 0919 778 6515
HONEY'S Relax Inn
6 rooms
aircon rooms with en-suite bathroom P900
Fan room with 2 beds P600
fan room P300
Honey's Lodging House
7 rooms
Fan room common Cr P90/head
fan room w/ private cr P240/room
aircon w/private cr P500/room
Freedom Avenue, Ploblacion, Mabinay
Proprietor Honey Lynn T. Teng mobile 0919 592 6720