Bo's Coffee – Robinsons Place Dumaguete

Bo's Coffee, located at the Al Fresco area at Robinsons Place Dumaguete, is a small coffee shop- café where you can treat yourself a nice and decent coffee. Bo's Coffee opens every 9:00 am and closes every 9:30 pm in the evening.  The warm and friendly smile of the waiters and waitresses gives the guests of  Bo's Coffee a good and happy mood.
Having a drink and a snack at Bo's Coffee

Bo's Coffee offers a wide variety of strong, bold, sweet, and even iced coffee. They also have brewed coffee, and shakes. They have fruit juices that may go well with some of their desserts like cakes and pastries. Special Shakes and iced juice are posted in their walls where you can see when you order. Special drinks are on poster on their walls and the glass-front.
Service Impression at Bo's Coffee
Bo's Coffee's waiters and waitresses maintain the cleanliness of coffee shop to help giving the place a good impression. They also offers additional sugar (brown or white) if you are a sweet tooth. They also have complimentary water in the corner of their bar where you can get it in self service. Free Wi-Fi is available in Bo's Coffee.
Take Outs at Bo's Coffee Robinsons Place Dumaguete
Bo's Coffee also sells Coffee Beans of different kinds for getting the delicious taste of Bo's at home. If you want that in an original Bo's mug, no problem, souvenir mugs and cups and other branded items are available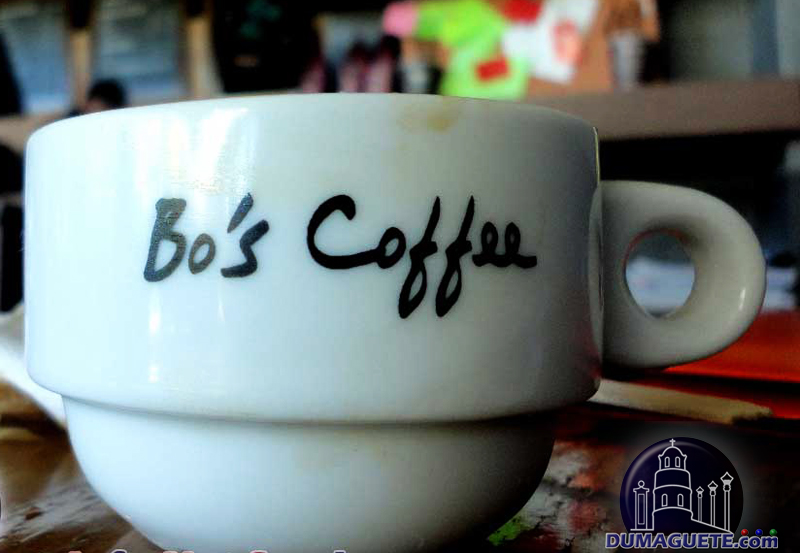 For inquiries and reservations please call: 421- 1798