Mabinay – Negros Oriental
Mabinay in the province of Negros Oriental is the perfect destination for the traveler seeking true beauty and stunning nature in the Philippines. Breathtaking views of valleys, brilliant outlooks towards the sunrise over the cliffs and mountains and plenty of caves are all on offer in Mabinay. Travelers looking to experience natural beauty in the Philippines can look no further than the heart of Negros Island, Mabinay.
Getting to Mabinay
Mabinay is indeed well known its stunning views of caves, mountains, and rivers. Getting to Mabinay is quite easy. One can simply jump to a Ceres Bus here in Dumaguete and ride for about 3 hours. Air-conditioned buses will cost about Php 160.00 while the regular non-air conditioned bus will cost Php 110.00 only.
Location of Mabinay
Mabinay is located in the center of the Philippines in the province of Negros Oriental. Situated between two major cities, Mabinay is in the mountainous heart of Negros Island. Located approximately 90 kilometers from the provincial capital – Dumaguete City – this haven for natural beauty can be reached by well-paved roadways cutting across the province from Bais City. The paved highways mean that more people can visit Mabinay each year, allowing safe and efficient travel to enjoy the natural beauty of this mountainous community.
Barangays of Mabinay Negros Oriental
Abis
Arebasore
Bagtic
Banban
Barras
Bato
Bugnay
Bulibulihan
Bulwang
Campanun-an
Canggohob
Cansal-ing
Dagbasan
Himocdongon
Hagtu
Inapoy
Lamdas
Lumbangan
Luyang
Dahile
Manlingay
Mayaposi
Napasu-an
New Namangka
Old Namangka
Paniabonan
Pantao
Poblacion
Samac
Tadlong
Tarâ
Pandanon
Brief History of Mabinay
Mabinay was originally carved from the barrios of Bais and then formed a municipality in 1960. A few years later, more barrios from Bais and Manjuyod were annexed, growing Mabinay into the municipality it has become today. The border town to Negros Occidental has a Provincial Highway running through it, which links Negros Oriental with the province in the western area of the island. This allows for a constantly growing economy and plenty of travelers. Since its founding, Mabinay has gone nowhere but up. The city continues to grow due to its incredible amount of crops and the tourists who continue stopping there each year.
Langub Festival
The Langub Festival is one of the largest events occurring in the Mabinay region. The festival called "Langub" is held annuals on the 24th of January. The Langub is held to coincide with the town fiesta in honor of Sto. Nino, which is held on January 24th each year. Fairs, sporting events, entertainment, pageants, street dancing and more all occur during the festival. It is the perfect time for travelers to experience the rich history that is on offer in the Philippines province. Colorful dress and vintage clothing are worn throughout the festival to commemorate the history gone by.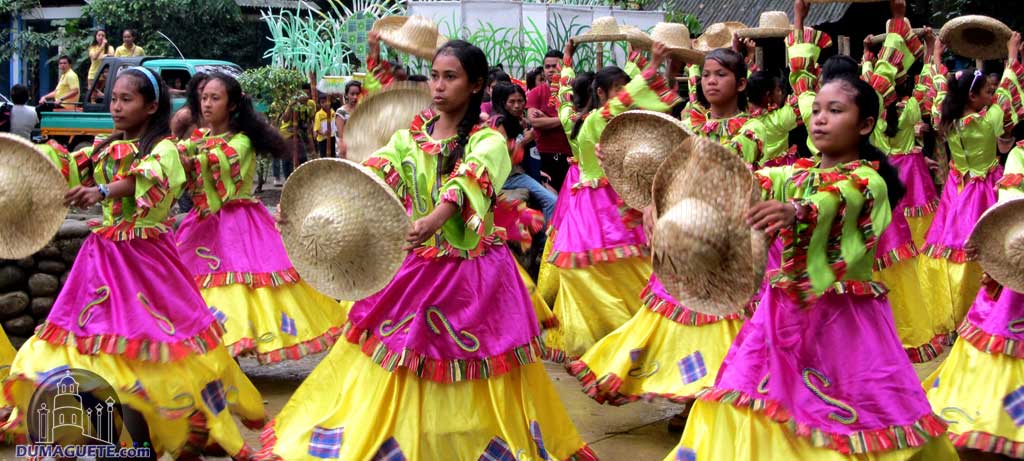 How to get to Mabinay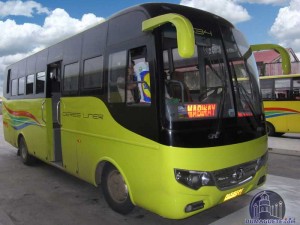 The municipality lies in the heart of Negros, roughly 90 kilometers north of Dumaguete City. With an own vehicle, one will need about 2 hours from Dumaguete. As the town is also along the route of the public buses from Dumaguete to Bacolod it is really easy to jump on a Ceres Bus and relax for the next 3 to 3.5 hours. The buses will stop at the Mabinay Bus Terminal from where one gets a ride to the hotel or even will be picked up.
The Ceres non-aircon bus to Mabinay costs just above 230 Php, for the air-conditioned bus the one-way ticket is 20 Peso more. Just go to the Ceres Bus Terminal close to Robinsons Mall, get into the right bus (going to Mabinay or Bacolod via Mabinay).
Sit down and relax. Some-when during your trip, you will be asked to get your ticket by one of the assistants. If your Lodge or Hotel lays en-route ask the assistant to stop there, so you can jump off right in front of it, or in just a short walking distance. The entrance of the Bulwang Caves are also close to the street and one can jump off directly there too.

Tourist Attractions of Mabinay
Mabinay becomes more and more one of the tourist hot spots not only of Negros Oriental but of the whole region of the Central Visayas. Its sprawling vistas cannot be beaten anywhere in the country and the exploration options offered in the cave-capital is unparalleled. There are plenty of opportunities for the "underworld" explorer to locate the heart of Mabinay by delving into these caves and exploring their wonders.
However,  not only "spelunkers" and "cavemen" will have a great time in the heart of Negros. The whole region is boasting with rich flora and fauna. Those passing along the paved coastal roads of Negros Oriental should – no doubt – take a detour and stop off in Mabinay for the local culture and natural attractions.
Useful Contacts of Municipality of Mabinay
Mabinay Mayor: Ernie Jango Tavita, Uy
Mabinay Vice Mayor: Jeoterry Abada  Uy
Mabinay Municipality Hall : 0905 272 8498; or 0939 9242 909
Mabinay Municipality Hall address: Purok 6 Poblasion Mabinay Negros Oriental
Mabinay Municipality Planning Development Coordinator:
Engr. Reynaldo Santiago: 0917 310 9422
Mabinay Tourism Head of Officer: Gary Caseres , +63955 481 7554
Mabinay Municipal Treasurer: Mrs. Elvira M. Torres: 0917 716 5557
Mabinay Municipal Assessor: Ms. Bernadeth T. Guanzon: 0927 893 0439
Mabinay Municipal OIC- Accounting Office Head: Mrs. Mary Ann Acaso: 0917 581 7881
Mabinay Municipal Engineer: Robert G. Askin: 0915 421 1886
Mabinay Municipality Head of COMELEC office: Mr. Cris Ozoa: 0926 321 1176
Mabinay Municipality Department of Algriculture: Mrs. Lelaine Malacapay: 0916 297 4448
Mabinay Municipality DILG Head officer: Mr. Jay Loizel G. Pido: 0936 866 7530
Mabinay Municipality Sangguniang Bayan Secreatary: Mrs. Jennifer Papileras: 0917 622 1800
Mabinay Municipality Head of Budget Office: Mrs. Meriam N. Cadayday: 0917 320 0162
Mabinay Municipal Social Welfare and Development Officer: Mrs. Melba Abril: 0926 495 5274
Mabinay Municipality OIC- Local Civil Registrar Head: Mrs. Catalina Garces: 0917 871 3748
Mabinay Health Center: 0917 5817 472
Mabinay Health Officer: Dr. Ernest T. Uy: 0917 308 1671
Mabinay Municipality Physician: Dr. Kerwin Villarete: 0915 201 9353
Mabinay Local Disaster Risk Reduction and Management Fund (LDRRM) Officer III
Mr. Dindo Amorganda : 0906 670 7348
Mabinay Municipal ENRO: Mr. Ernesto Banong: 0917 715 5232
Mabinay Police Station Hotline: 0917 3124 207
Mabinay Municipality Chief of Police: Police Inspector: 0917 773 4907
Mabinay BJMP/ Jail Warden: SJ04 Geroly Pael: 0906 938 9571
Mabinay OIC- IRSPBVR Coy, RPSB7, Police inspertor Kym Lopez Valdez: 0995 395 4032
Mabinay Police Station Address: Poblasion Mabinay, Negros Oriental Philippines
Mabinay Municipality Fire Marshal: SF04 Florencio O. Sarming: 0917 556 0694
Education
The Philippine Department of Education considered the Mabinay National High School to be one of the high standard accredited institutions in the country. In the late '90s, the Mabinay Institute of Technology was formed. The technical college was 2004 integrated into the Negros Oriental State University (NORSU). There are plenty of options for children growing up in the Philippines for education and post-educated. Highly regarded school systems mean learning comes first and is vitally important in the area.
Public Elementary Schools in Mabinay I
| | | |
| --- | --- | --- |
| Abis Elementary School | Inapoy Elementary School | New Namangka Elementary School |
| Basakan Elementary School | Lapong Elementary School | Old Namangka Public School |
| Bato Elementary School | Lumbangan Elementary School | Napasu-an Elementary School |
| Binantangan Elementary School | Luyang Elementary School | Pandanon Elementary School |
| Bugnay Elementary School | Mabinay Central Elementary School | Pinayon-an Elementary School |
| Bulibulihan Elementary School | Manlingay Elementary School | Samac Elementary School |
| Dahile Elementary School | Nabaliwan Elementary School | Tadlong Elementary School |
| Hagtu Elementary School | Namangka Elementary School | Tampa Elementary School |
Public Elementary Schools in Mabinay II
| | | |
| --- | --- | --- |
| Alagasihan Public School | Barras Elementary School | Capanun-an Elementary School |
| Arebasore Elementary School | Bulwang Elementary School | Dagbasan Elementary School |
| Bagtic Elementary School | Campo-aling Elementary School | Danawan Elementary School |
| Baliw Elementary School | Canggohob Elementary School | Don Cristito Tirambulo MES |
| Banban Elementary School | Cansal-ing Elementary School | Himocdungon Elementary School |
| Barang-barang Public School | Cantombol Elementary School | Lamdas Elementary School |
| Lanot Elementary School | Lower Capanun-an Elementary School | Mampalasan Elementary School |
| Pantao Brgy. Site Elementary School | Pantao Elementary School | Pedro Gobuyan, Sr. MES (Mayaposi ES) |
| Tara Elementary School | Tingtingon Elementary School | |
Mabinay – Public High Schools
Mabinay Science High School

Poblacion, Mabinay Negros Oriental 0926 6547 096

Mabinay National High School

Naranghita St., Poblacion Mabinay Negros oriental 0908 8619 74

Dahile PCHS

Barangay Dahile, Mabinay Negros Oriental 0926 3756 238

Inapoy National High School

Inapoy 0935 8551 742

Cansal-ing Prov'l. Comm. HS

Cansal-ing 0999 5403 655

Mayaposi Community HS

Mayaposi 0909 5796 075

Canggohob HS

Canggohob 0921 6097 122

Tara PCHS

Tara 0935 1496 877

Bagtic NHS

Bagtic 0999 7973 384

Campanun-an PCHS

Campanun-an 0999 8175 650

Paniabonan HS

Paniabonan TBA

Pantao NHS

Pantao 0927 8770 076

Mabinay National High School-Manlingay

Annex TBA