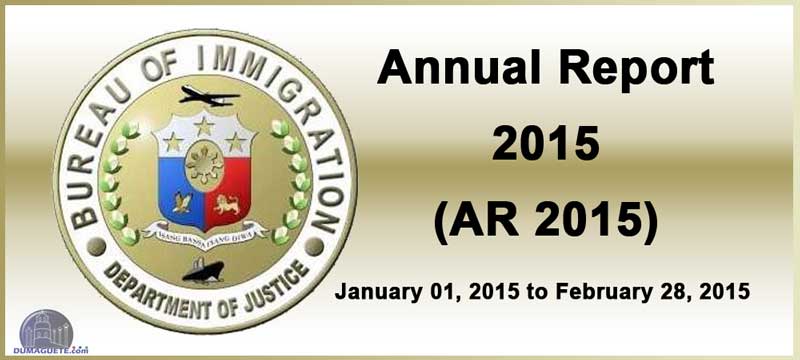 This is a friendly reminder to all our foreign friends and guests in Dumaguete, Negros Oriental and all over the Philippines. It is the time of the year for your Annual Report 2015. All registered foreigners must report in the first 60 days of 2015 to the participating BoI Office. The Dumaguete Immigration District Office is the place to go for foreigners in Negros Oriental.
If one has a child below 14 years of age it can be reported by its parent or legal guardian.
An alien may be exempt from non-appearance. Provided, the alien appeared during AR 2014 with an accomplished 2014 AR form; payment of P500 Express Lane for non – appearance; submit Special Power of Attorney (SPA) with valid government issued ID of legal representative; and the alien is without any CA 613 and/or RA 562-related deficiencies/liabilities.

Annual Report 2015
Who can apply?
All registered aliens and ACR I-Card holders except Temporary Visitor's Visa holders or Tourist Visa holders
Where to apply?
BI Main Office or other participating Immigration Offices
Annual Report Online Filling System Link
Annual Report Online Filling System Link click here
How to apply?

Present original ACR I-Card or paper-based ACR, passport visa page of latest arrival and official receipts of previous Annual Report payment.
Secure the Order of Payment Slip.
Pay the required immigration fees.
Get the Official Receipt.

How much does it cost?
Annual Report (AR) Fee 300.00
Legal Research Fee (LRF) 10.00
for each immigration fee
except Head Tax and Fines
TOTAL 310.00
A Word of Advice
The Dumaguete Field office is quite small and very busy throughout the year. You can speed up the process by being prepared. Have all your papers ready, bring the required printouts, copies and/or pictures. Please don't waste the time of the staff and all others waiting to report just because "you didn't know that…").
Don't rely on "fixer" or other expats who heard from a friend to do it different. Plenty of expats created a huge chaos in 2014 with trying to implement their own rules how to proceed, spreading false rumors and talking nonsense all over the internet, in McDonalds and all other expat meeting points
The website of the Bureau of Immigration is very informative and all required info can be found there.
Keep in mind that it is only one or two days out of 365 and a few Peso, which enables you to stay legally as a guest in the Philippines. Think about that and proceed with a smile
https://dumaguete.com/wp-content/uploads/2015/01/BOI-Annual-Report.jpg
360
800
Rosario - DC-Team
https://dumaguete.com/wp-content/uploads/2014/08/09-19-550-Logo-Dumaguete1.png
Rosario - DC-Team
2015-01-03 14:46:15
2015-01-12 14:50:01
BoI – Annual Report 2015