Sta. Monica Beach Club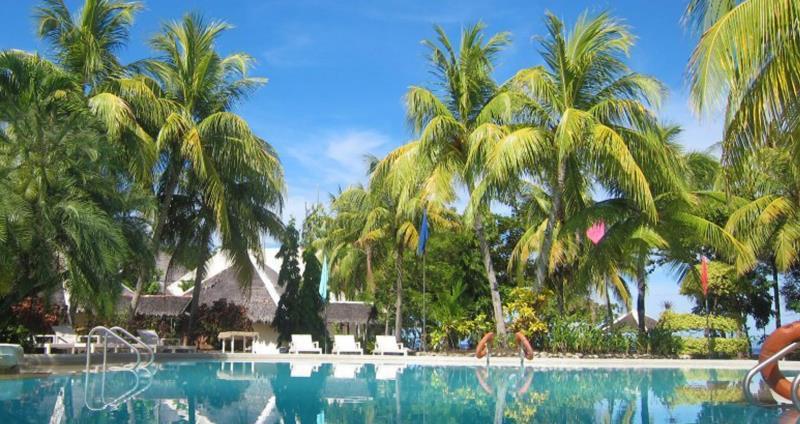 Found in Barangay Banilad, the Sta. Monica Beach Club is located south of the city-center, but do not be fooled; a stay at the Sta. Monica still feels like guests are in a tranquil, peaceful resort in the middle of the tropical paradise. Staffed with highly-trained, professional, and courteous staff, as well as luxurious surroundings and a beautiful ocean nearby, the Sta. Monica Beach Club is the perfect place to stay for a vacation to remember.
Room at Sta. Monica Beach Club



The Sta. Monica Beach Club offers three kinds of rooms: the deluxe room, the family room, and the beach house. The deluxe room can either have a single king-size bed, or 2 queen sized beds. The family rooms have two queen-sized beds, and a single bed. The beach house has three bedrooms, each with a king-sized bed. All rooms come with complimentary breakfasts, air-conditioning, safety deposit boxes, small refrigerator, cable television and WiFi access. All rooms also have complimentary roundtrip transfers for all occupants. Room rates start at $125 per day, however, if you book now you can get great discounts.
Amenities at Santa Monica Beach Club Dumaguete



The Resort has the Lanai Restaurant on-site, for delicious, authentic Filipino dishes. There is also an outdoor pool, as well as a poolside bar. There is a beautiful garden or guests to stroll in, a car park, and meeting facilities. There is free Wi-Fi access in all public areas of the resort. There are also non-motorized water sports available on-site.
Other Services of Sta. Monica Beach Club

Sta. Monica Beach Club offers a wide variety of services for their guests, such as airport transfers, a shuttle service to tourist areas, and postage service. There is a business center with photocopying services. Guests can order food anytime with the 24-hour room and porter service. The resort can also arrange transportation to local tourist spots, or to nearby malls and other commercial businesses.
Guests staying at the Sta. Monica Beach Club will enjoy their stay, whether they're staying for business or pleasure.
Travelers who wish to relax and recharge can spend their days enjoying the nearby ocean and water-sports, or swimming in the resort pool then grabbing a massage inside their own room.
Sta. Monica Beach Club offers delicious food, beautiful surroundings, and accommodating staff ready to make sure that guests want for nothing while staying at the Sta. Monica!