Negros Oriental Provincial Hospital
The Negros Oriental Provincial Hospital (NOPH) is centrally located in the province, in the capital city of Dumaguete. Goal of the hospital is to provide customer-friendly, accessible and affordable, quality health care, in partnership with other sectors for public service excellence.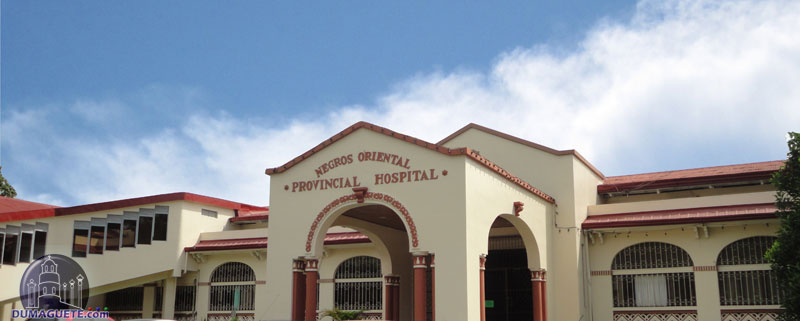 At present it has an authorized bed capacity of 250 beds, 77% of which are services beds and 23% pay beds and medicare. It is the referral hospital of patients coming from all the 22 municipalities of the province with a total population of over 1.3 million. Patients from the province of Siquijor, the Southern part of Cebu and Northern Mindanao also find it more convenient to come for appropriate care.
Negros Oriental Provincial Hospital Facilities
The hospital has 3 major components namely, Medical, Nursing and Administrative Services. The Medical Service is departmentalized into four major clinical services namely: Medicine, Surgery, Pediatrics and Obstetrics-Gynecology while the Department of Anesthesiology is complete in itself. Subspecialty services EENT-Ophthalmology, Neurosurgery (Head Trauma), Orthopedics, Pulmonary Medicine and Nephrology are also available thru our Medical Pool and visiting consultants.
Additional Hallmark that is fully significant and which identifies Negros Oriental Provincial Hospital from others is that of the newly constructed and Hi-Tech equipped Diagnostic Center with Dialysis, CT Scan, Mammography, Ultrasound, treadmill, Mobile X-ray and the Clinical Blood Analyzer, Bactec Automated Microbial Detection System, refrigerated Centrifuge (Separator), VDRL Rotator, Ventilator machine to beef up the Radiology and Laboratory Departments respectively.
Negros Oriental Provincial Hospital as a Teaching Venue
It serves as teaching venue of student nurses affiliates from Silliman University College of Nursing, Saint Paul University College of Nursing, Medina College, CDC of Rehabilitative Sciences, Manuel L. Teves Memorial School of Midwifery, IMBO Nursing Aide School and central Visayas Polytechnic College Medical-Dental Nursing Aide Students.
The Negros Oriental Provincial Hospital also manages the Talay Rehabilitation Center; catering to mentally ill patients as part of the Negros Oriental Hospital System. The Ancillary Services are composed of the Dental, Radiology, Pharmacy, Laboratory, Medical Records, Medical Social Service and the dietary Services.
As a government hospital, its primary purpose is to provide a comprehensive health care that includes the promotion, prevention, curative and rehabilitation aspect of health services as well as education and training and perhaps to some extent research. Republic Act 7160, otherwise known as the Local Government Code of 1991 embodied that the hospital services of the Negros Oriental Provincial Hospital and the District Hospitals of the province are now under the Administration of the Provincial Government of Negros Oriental.
Location
&

Contact of Negros Oriental Provincial Hospital
Negros Oriental Provincial Hospital
North National Highway,
Barangay Piapi, Dumaguete City
Negros Oriental, Philippines 6200
Emergency Room
(035) 225 9286
Administrative Office
(035) 225 2614
---
Dumaguete.com sends a big, heartfelt THANK YOU for the hospitality and all provided information to:
Provincial Health Officer I Dr.Marc Angelo C. Llosa
Provincial Health Officer II Henrissa M. Calumpang
Administrative Officer
Inocencio C. Obligar Jr.
(Provincial Hospital Administrator)
Chef Nurse Miss
Emelyn M. Gadingan