Casa de la Playa Beach Resort – Siquijor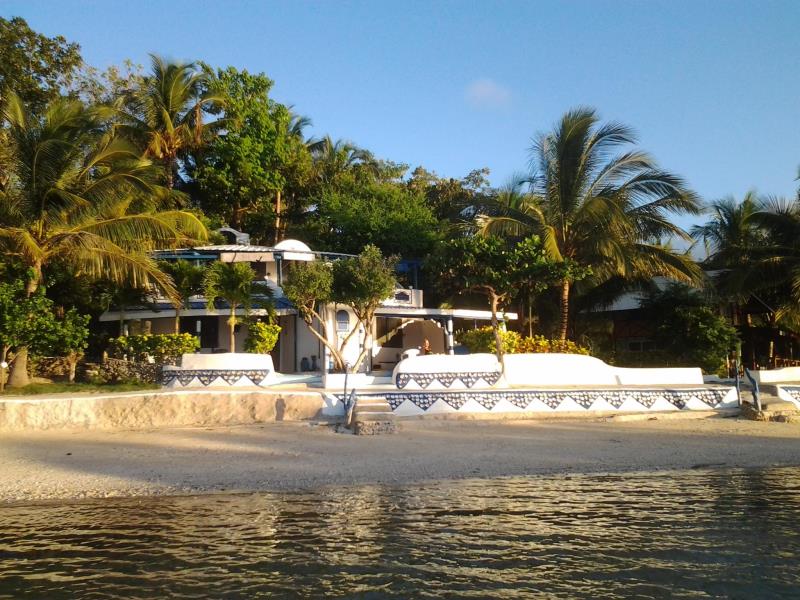 The Casa de la Playa Beach Resort is one of the more secluded beach resorts in the island of Siquijor. It is located a good 6km away from Larena Town. This means that Casa de la Playa is situated away from the noise of the busy island town. The beach resort is clearly the product of two cultures since there are two owners – the first being a local and the second one a German.
Rooms at Casa de la Playa Beach Resort
Guests could choose their cottages that have unique paths to the beach, which accounts for privacy and intimacy.
Here are the different room types with their rate for a single night stay:
Standard House: PHP 1,000 – PHP 1,400 (US$22-US$31).
Houses with kitchen plus fridge: PHP 1,550 – PHP 1,750. (US$35-US$40)
Double-story house with fridge: PHP 1,800 – PHP 2,000(US$40-US$45).
Aircon Deluxe, Greek style with fridge: PHP 2,200 – PHP 2,400 (US$50-US$55).
Air-conditioned gardens are also available for PHP 1,700 – PHP 1,900.
All rooms have Wi-Fi access, hot and cold shower, and ventilation.
Amenities at Casa de la Playa Beach Resort

In terms of activities that guests could enjoy, one of the first things that come to mind when Casa de la Playa is mentioned would be counting starfish. There is an abundance of starfish in the vicinity of the resort, so guests could actually enjoy spending quiet time just counting the starfish or having photo opportunities with the marvelous creatures. There is also a cave, waterfalls, and nearby islands that are up for exploration. Motorbikes are available for rentals – this makes the exploration easier for guests.
The beach resort also has a wellness spa for guests who wish to engage in relaxation packages while staying in. Signing up for the massage packages also means that guests would enjoy the famous healing massage of Siquijor's local healers. Yoga, Chinese, and Oil-painting classes are also available for guests and visiting backpackers.
For guests who have already gone to the famous tourist spots in the island of Siquijor and would this time prefer to enjoy the island in its quietness, Casa de la Playa Beach Resort is definitely worth considering. It is peaceful, quiet – away from the hustle and bustle of the city.