Ayungon – Negros Oriental
Ayungon is a municipality in the northern part of Negros Oriental province of the Philippines. The south-eastern part of the island of Negros, in the Central Visayas region, is called Negros Oriental or Eastern Negros while the north-western half is called the Negros Occidental. To reach Ayungon one has to travel about two hours by road from Dumaguete City, the provincial capital. It is a scenic place with a rural atmosphere, having expansive fields of rice, coconut groves, and plantations where pineapples, sugar cane, and bananas are grown.
Brief History of Ayungon
Before the Spaniards invaded the Philippines, Ayungon was a town, the ruins of which were discovered by religious missionaries in the nineteenth century. Old records refer to the place as Todos Los Santos. The town later became a parish under the church of Tayasan. It was made the municipality of Ayungon under Governor General Leonard Wood on June 12, 1924.
There is a lot of speculation about how Ayungon got its name. Dr. Temoteo S. Oracion, anthropologist and professor of Silliman University in Dumaguete City notes that in the era before the Spanish invasion, a locality got its name from the most important or well-known person living there. The most popular man in Ayungon at that time was a fisherman named Ayung, whose hut at the mouth of the river was visited by any traveler who came to the area. Thus Ayungon got its name from the fisherman Ayung.
A more interesting version tells the story of some Spaniards exploring the locality and coming upon a local man cutting a tree. The Spaniards asked him a question in Spanish, which of course he did not understand. Assuming that they were asking his name, he said "Ayung". The Spaniards, not understanding his language, repeated the question. This time Ayung assumed that they were asking him the name of the tree he was cutting down, so he replied "Dungon", which was a common tree in the area. The Spaniards named the place "Ayung-Dungon", which eventually became Ayungon. A dungon tree has been planted in the Municipal Park as a reminder of how Ayungon got its name.
Demographics
With a land area of 265.1 square kilometers and a population of 46146 according to the census of 2010, the town has a population density of 174.1 per square kilometer. The people are mainly engaged in agriculture. Rice, sugar cane and fruit such as pineapples and bananas are the main produce. Fishing is also a major activity.
Schools and Education:
Ayungon has multiple elementary and secondary schools which are run by the Department of Education. Ayungon Science And Technology High School, a public Science and Technology High School. However, the people of Ayungon have access to good higher education, with universities such as Silliman University, St. Paul University and Negros Oriental State University in nearby Dumaguete City, which is called a "university town".
Public Elementary Schools in Ayungon
| | | |
| --- | --- | --- |
| Amdus Elementary School | Gomentoc Elementary School | Nabalian Elementary School |
| Anibong Elementary School | Inacban PS | Nabhang Elementary School |
| Awa-an Elementary School | Iniban Elementary School | So-ok Elemetary School |
| Ayungon C E S | Jandalamanon Elementary School | South Poblacion Elementary School |
| Banban Elementary School | Kilaban Elementary School | Talanyog Elementary School |
| Buenavista Elementary School | Lamigan Elementary School | Tambo Elementary School |
| Calagcalag Elementary School | Libtacon PS | Tampocon I Elementary School |
| Candana-ay Elementary School | Maaslum Elementary School | Tibyawan Elementary School |
| Canlukduhan Elementary School | Mabato Elementary School | Tiguib Elementary School |
| Carol-an Elementary School | Manogtong Elementary School | Tumampon Elementary School |
| Duli-Duli Elementary School | | |
Public High Schools in Ayungon
| | |
| --- | --- |
| Ayungon National High School National Highway, Tampocon 1 | Mabato Provincial Community High School Mabato |
| Ayungon National High School – Carol-an Extension Carol-on | Tambo National High School Tambo |
| Ayungon Science High School Todos Los Santos Street, Tampocon II | |
Getting to Ayungon
Being an independent municipality, Ayungon can offer more than you can tell. Located about 82 km away from the busy city of Dumaguete, Ayungon is another of Negros Oriental's small provincial paradise.
One way of getting to Ayungon is by a Ceres Bus. Traveling by bus to Ayungon will take about two hours from Dumaguete City and will cost about Php 120.00 for air-conditioned bus rides and about Php 105.00 for non-air conditioned bus rides. Another way in getting to Ayungon is via a V-hire (van for hire). Traveling time will only be around two hours as well from Dumaguete City and will cost only about Php 90.00.
Amdus
Anibong
Atabay
Awa-an
Ban-ban
Calagcalag
Candana-ay
Carol-an
Gomentoc
Inacban
Iniban
Jandalamanon
Kilaban
Lamigan
Maaslum
Mabato
Manogtong
Nabhang
Poblacion
Tambo
Tampocon I
Tampocon II
Tibyawan
Tiguib
All information about public schools were provided by the DepEd Negros Oriental
Some other facts that the visitor to Ayungon might find interesting
There are distinct wet and dry seasons, while the temperature ranges between 25 degrees and 29 degrees Celsius. English is the language for official communications. Cebuano is the main spoken language, but Tagalog is also widely understood.• The local delicacy is Piaya, a round sweet bread filled with caramel called "muscovado" and sesame seeds. It is sold by vendors on the streets of the town.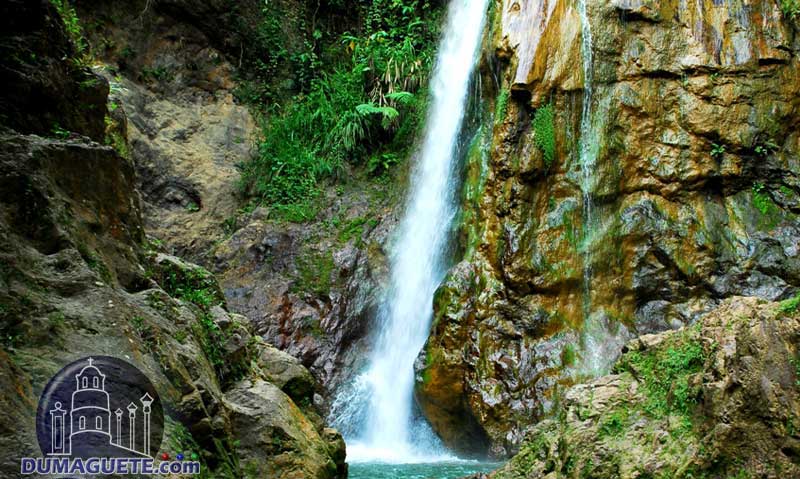 Places of Interest in Ayungon
Ayungon has quite a few attractions for the visitor. Its open rice fields and rural surroundings have an air of serenity and calmness that offers a change from city life. Banban in Ayungon has one of the three virgin forests that still survive in Negros Oriental. Other places of interest include the Karalaon Bird Sanctuary, the Mabato underground caves, and the Pagsalsalan Twin Falls. The stone fort near the mouth of the Ayungon River, built by the invading Spaniards, stands even today. Ayungon Festival is the Annual fiesta celebrated every 14th of May and Every 1st day of July they celebrate the Charter Day of Ayungon.
Useful Contacts Of Ayungon Municipality
Municipal Mayor Ayungon: Dennis Nusan, Amancio
Municipal Vice Mayor: Nelda Abordo, Favillaran
Ayungon municipal Office: 0905 472 8507
Ayungon Operation management Center: 0917 320 2557
Ayungon Fire Station: 0927 8924 300
Ayungon Police Station Hotline:  0916 548 8357
Ayungon Police Station Address: Poblacion Ayungon Negos Oriental Philippines.