Atlantis Dive Resort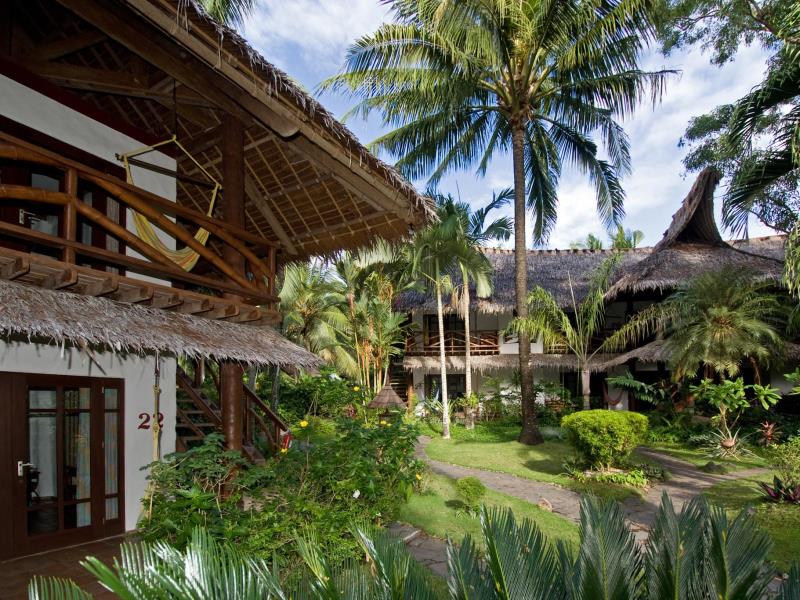 Located in Dauin, the Atlantis Dive Resort is only a stone's throw away from the beach. Guests staying at the resort can wake up to the beautiful sunrise on the beach, to the sounds of the water hitting the surf. For those who are looking for a luxurious, comfortable stay at a resort that they will never forget, the cozy accommodations, cheerful staff, and beautiful location of the Atlantis Dive Resort is the perfect choice.
Room at Atlantis Dumaguete



The resort offers five different kinds of rooms: deluxe, sea view suite, ocean front, garden suit, and deluxe garden suite.
Each room comes with air-conditioning, mini-bar, ceiling fans, private shower with bathtub, cable TV, safety deposit box, coffee machine, DVD player, and refrigerator.
All rooms have Wi-Fi access. Room rates begin at $150 per night.
Amenities at Atlantis Dumaguete



The resort offers a wide range of amenities for guests to enjoy, such as an on-site restaurant and bar. Guests can also do their own cooking with the hotel grilling facilities. There is an outdoor pool, a car park, and a garden. There is a separate smoking area for guests, as well as snorkeling and kayaking facilities. There is a dive center, as well as a class room for beginners learning to dive.
Other Services at Atlantis Dive Resort

The hotel offers a welcome massage for all guests, so that guests can begin their stay relaxed and recharged. There are airport transfers, luggage storage, and 24-hour room service. There is also a full service spa, and a laundry service. The hotel also arranges tours and activities for guests, such as diving, golfing, and city tours.
Book your room at Atlantis Dumaguete

NOW

to get big discounts!
Everything that a guest could want in a dream vacation can be found in the Atlantis Dive Resort.
Whether guests enjoy diving into crystal-clear waters, or taking a stroll in beautiful gardens, the Atlantis Dive Resort can deliver an unforgettable experience.
The resort boasts spacious, comfortable rooms, friendly staff, and more experiences that a guest can do in one stay!