The Lorenzo G. Teves Aqua Center in Dumaguete is an Olympic size swimming pool with 8 lanes. It is 50 meter long and between 1.50 meter and 2.40 meter deep. A second pool is for platform diving. it is around 5 meter deep. The Platforms of the diving tower are at 3m, 5m, 7m and 10 meter. The platforms have no springboards.
Aqua Center in Dumaguete is the largest public swimming pool in the province of Negros Oriental
A lot of local people, even foreigner who love to swim and doing  sports, are hanging out in here in Aqua Center. Also sport persons are enjoying and loving this place.  Availability, of this swimming pool is good as it's a public pool and opens for everybody.Many youth activities and schools use aqua center as it has enough space.
Aqua Center Opening times:
8:00  in the morning to 6:00 in the evening,for Monday, Wednesday, and Friday.
6:00 in the morning to 6:00 in the evening, Tuesday,Thursday,
8:00 in the morning to 5:00 in the afternoon. Saturday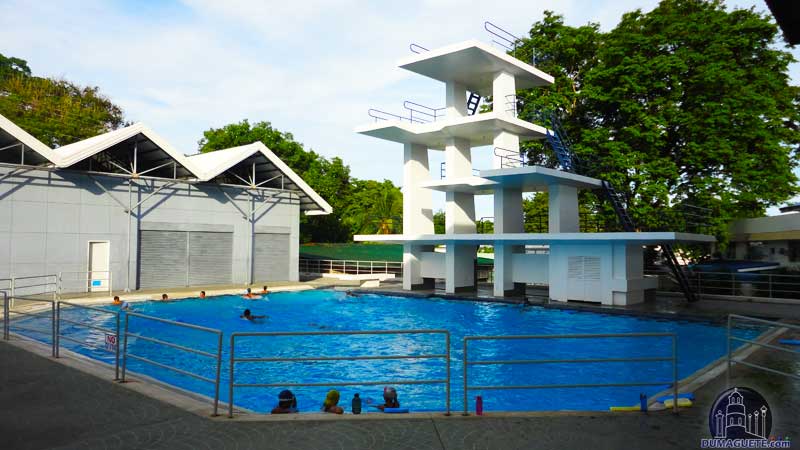 Province of Negros Oriental Governor Lorenzo G. Teves Aqua Center's Safety and Health Rules:
Persons with heart irregularities. Communicable diseases and water Allergies are Prohibited from swimming without medical clearance.
Make sure the lifeguard is around before swimming (No lifeguard no swimming).
Children must swim with the supervision of an adult.
Do not plunge into the water if you do not know how to swim. Take lessons and learn to swim.
Avoid swimming immediately after a heavy meal and or after strenuous physical workout (when Tired)
Do not Jump into the cold water immediately after overexposure to the heat of the sun. Do not over stay in the water as it may cause cramps.
avoid Hazardous acts. Horsing around the pool deck. Pushing each other to the pool, and the like no back tumbling.
Do not dive headfirst into the water expect for the shallow plunge starting dive used in competitions.
Minimize conversation with the lifeguard in duty so as not distract his attention.
Never attempt to rescue a drowning person unless you know how. Call the lifeguard immediately
Listen to and obey the lifeguard.
Do not swim when there is lightning or thunderstorm.
House Rules by the manager of Aqua Center.
Proper attires is required. No proper attire no swimming.

Girls: swimming suit with cap. No not remove head cap while in the pool. Avoid use of hairpins. Loose buttons and jewelries in the pool.
Boys: swimming trunks (only jammer, fast skin or cycling short are allowed). No cotton or maong shorts. No board shorts or shorts.

No street shoes or other footwear are allowed around the pool deck area.
Take a soap shower bath and urinate first before entering the pool.
Spitting, spouting water, blowing of nose and urinating in the pool are prohibited .
Bringing of food. Beverages. Liquor and gum are not allowed in the pool area.
Smoking, gambling and drinking liquor are strictly prohibited in the aqua center.
Keep aqua center clean. Do not vandalize, do not litter.
Close all showers and or faucets if not in use. Report any malfunctioning equipment to the caretakers immediately.
The Lorenzo G. Teves Aqua Center is at the Capitol area of Dumaguete City, next to the Perdices Coliseum (Oval).