Tayasan – Negros Oriental
Tayasan is a municipality in the province of Negros Oriental. According to the income classification for cities, municipalities and provinces in Philippines, Tayasan is a third class municipality. The urbanization class of this municipality is classified as partly urban. According to the 2010 census, Tayasan municipality has a population of more than 35,000 residents. With an area of 15,420 ha, this town is one of those with a smaller urban area.
Tayasan is sub-divided into 28 barangays. One acts as the center of the city whereas the other 27 are in the surrounding areas with some being several kilometers away from the municipality central barangay. This municipality is situated approximately 70  km northwest of Dumaguete, the capital City of Negros Oriental.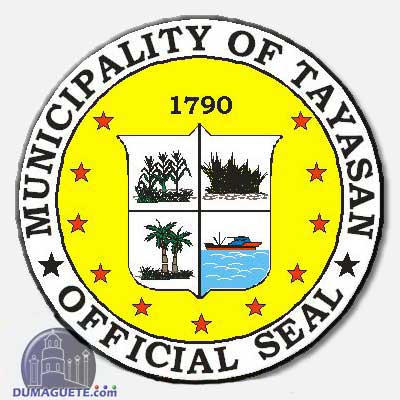 Bacong
Bago
Banga
Cabulotan
Cambaye
Dalaupon
Guincalaban
Ilaya
Jilabangan
Lag-it
Linao
Lutay
Maglihe
Matauta
Magtuhao
Matuog
Numnum
Palaslan
Pindahan
Pinalubngan
Pinocawan
Poblacion
Santa Cruz
Saying
Soquib
Tamao
Tambulan
Tanlad
Brief History of Tayasan
Early Tayasan covered a much larger area that included the barrios of Ayung, Hinoba-an and Himbabalud which in the end grew into the municipalities of Ayungon, La Libertad and Jimalalud respectively. Tayasan was named after a now extinct ornamental known as the ti-as. The municipality of Tayasan marked its bi-centennial year of founding in the year 1990.
Economic Information
Tayasan is proudly agricultural with 96% of its entire land area being maintained as farming lands with crops such as rice, corn, coconuts, bananas, sugar cane as well as secondary crops like cassava, peanuts, soybeans and beans. Fishing also occupies the coastal villages of Tayasan. Tayasan's bags, hats, mats and baskets woven of tikog and pandan have been in the Negros Oriental markets since the mid 19th century. A regular Friday market of farm produce and livestock draws traders and buyers to sitio Nabilog from as far as Negros Occidental.
Public Schools in Tayasan
Tayasan Elementary Schools
Bago Elementary School Lutay Elementary School Pinocawan Elementary School
Banga Elementary School Mabigo Elementary School Sacsac Elementary School
Cambaye Elementary School Maglihe Elementary School Saying Elementary School
Dalaupon Elementary School Matauta Elementary School Suquib Elementary School
Guincalaban Elementary School Matuog Elementary School Tabunan Elementary School
Ilaya-Tayasan Elementary School Nabilog Elementary School Tamao Elementary School
Jilabangan Elementary School Numnum Elementary School Tambulan Elementary School
Lag-it Elementary School Pinalubngan Elementary School Tanlad Elementary School
Linao Elementary School Pindahan Elementary School Tayasan Central Elementary School
Tayasan Public High Schools
Pinalubngan Nationa High School
Pinalubngan, Tayasan Negros Oriental
Contact: 0926 8971 633
Tayasan National Science High School
Matuog, Tayasan Negros Oriental
Contact: 0917 7439 758
Tayasan National High School (Main)
Matuog. Tayasan Negros Oriental
Contact: 0917 6345 463
Tayasan National High School – Bago Campus
Ipil, Bago, Tayasan Negros Oriental
Contact: 0917 7278 839
Festivals in Tayasan
In true Filipino tradition, there are multiple festivals, anniversary celebrations or fiestas going on in the province of Negros Oriental each month of the year which features street dancing, parades and general all around partying. There are also colorful portrayal of coastal marine resources, culture and tradition in each barangay. The Pasalamat de Tayasan Festival is celebrated on June 13 each year. It is marked with thanksgiving for bounties of land and sea, livened up by street dances and field presentations. Hordes gather on June 13th of each month at the St. Anthony of Padua. The church grounds are transformed into a lively festive gathering.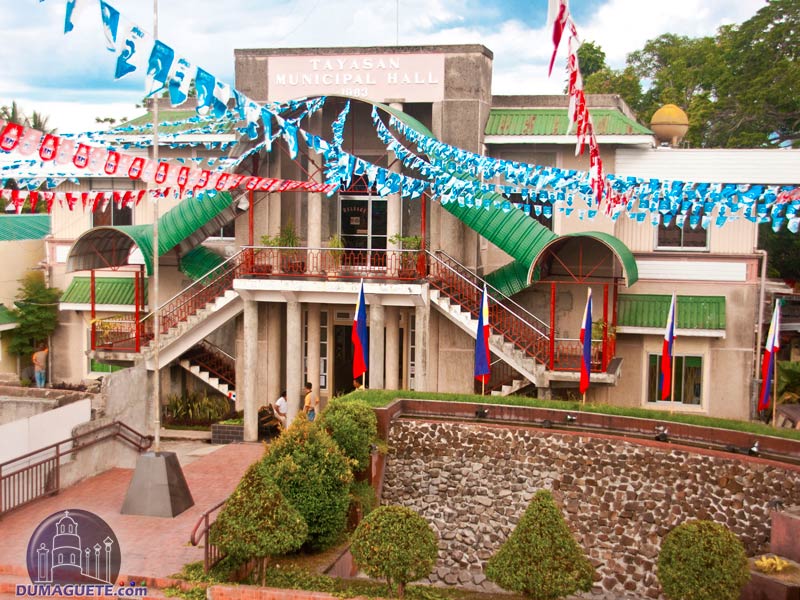 Points of interest and Tourist Attractions of Tayasan
The adventurous are able to trek into the hinterlands of Tayasan for some natural delights like Soquib and Guincalaban Falls, Tambulan Lake and Cabulotan Springs. Tayasan plaza offers a shady relief. The free-range fried chicken delicacy of Tayasan has become an attraction in itself.
Useful Contacts of Tayasan Municipality
Tayasan Municipality Hall: (035) 400 3231
Tayasan Treasurers Office: 0935 103 8559
Tayasan Acoountant Office: 0915 896 6682
Tayasan Budget Office: 0917 323 1990
Tayasan Planning & Development Office: 0926 685 2192
Taysan Assessors Office: 0917 835 4441
Tayasan Engineers Office: 0927 697 6971
Tayasan Agriculture Office: 0905 335 5298
Tayasan Civil Registrar office: 0917 835 4288
Tayasan Health Center Head: Mrs. Zoñega Mobile: 0915 110 7371
Tayasan Fire Statio Hotline: 0917 954 0686
Taysan Rescue./ Disaster Risk Reduction Management (DRRM)  Head:
Mr. Zoñega mobile: 0917 328 6105
Tayasan Police Station: National Highway Fronting Municipal Hall of Tayasan Negros Oirental, Philippines
Tayasan Police Hotline: 0905 2977 624